Winter Jasná Opening – a new cable car, thousands of schnitzels, folk costumes and famous DJ ӦTZI!
JASNÁ (1st December 2022) The spectacular winter season opening is literally knocking on the door! The biggest Slovak ski resort is starting the season not only with skiing but also with the best dance party of the year inspired by the Austrian-Liptov theme this time.
The ski season opening in Jasná on Saturday 3rd December will be impressive, with a varied day and mainly evening programme. And world-famous DJ ӦTZI will be the biggest star.
The Austrian born as Gerhard Friedle, a qualified cook, by the way, became the star of Austrian and German discos thanks to his hit – "Anton aus Tirol" (1999), which stayed in the charts in Austria and Germany for dozens of weeks. But it was only "Hey, Baby", which made him famous all around the world and became No. 1 in the charts in England, Ireland, Scotland, Australia and even South Africa. The song, which could be heard also at the American Super Bowl, made DJ ӦTZI a top celebrity that plays 600 shows per year now. He was even the first Austrian to be awarded with a gold and platinum record in Austria. In spite of his worldwide fame, he doesn't forget about those who haven't been so lucky. He supports various charity projects such as waermestube.at in Salzburg, is the ambassador of Wings For Life – a spinal cord research foundation (wingsforlife.com). DJ ӦTZI is coming to Jasná thanks to a Slovak who lives in Austria – Nadja Ondrušik, who arranged his performance via her O.C Agency and Starfashion.TV. DJ ӦTZI wil arrive with his private jet at Poprad airport, where a limousine fleet should be waiting for him and his team to transport them to Jasná. He will be staying at the most luxurious chalet in Jasná. The Chopok Chalet has an area of 500m2 and features not only four designer bedrooms with luxurious beds but also designer furniture, a fireplace, saunas and an outdoor Jacuzzi bath overlooking Mt Chopok. A person VIP Concierge, which is a standard service in this type of chalet, will be at disposal for ӦTZI and his team all the time.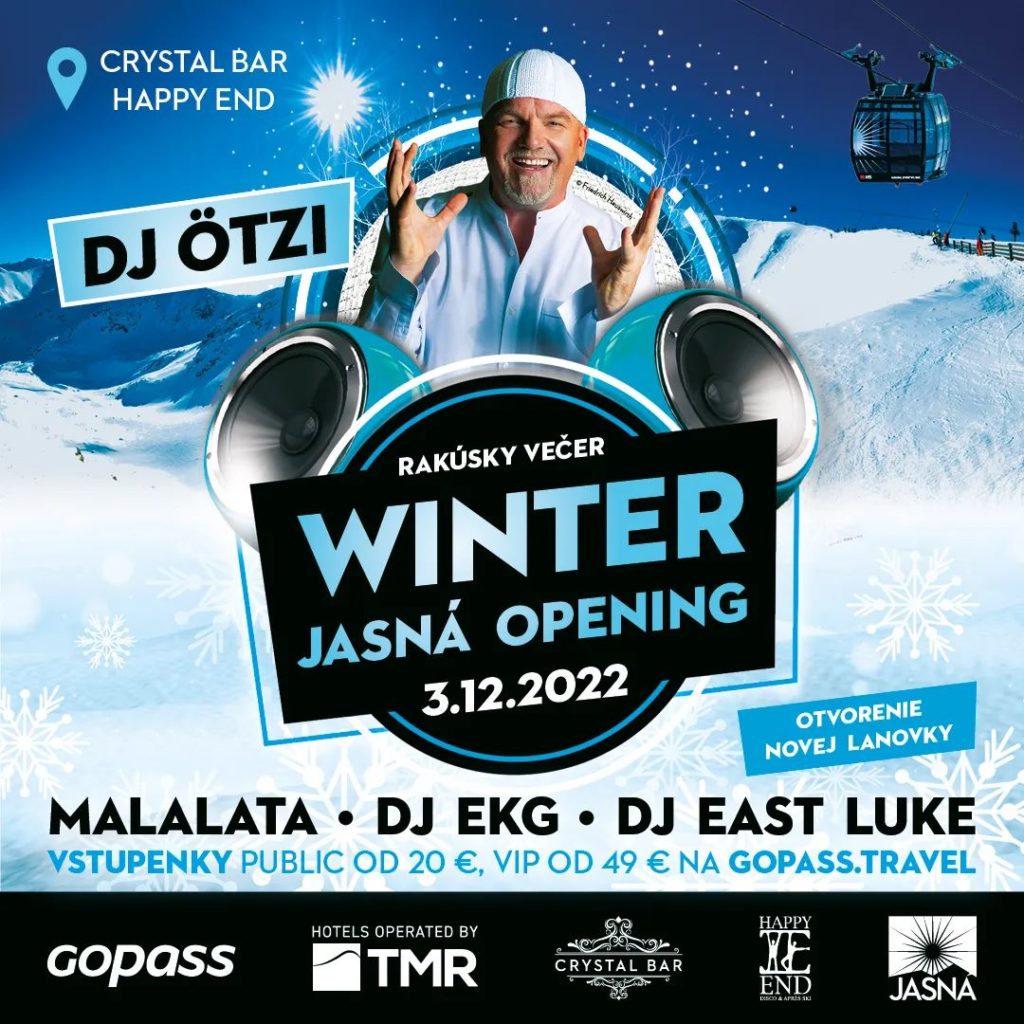 The popular Austrian is going to start his "journey" around Jasná at the official opening ceremony of a new cable car on Saturday at 11:00 pm. The ceremony has been planned under the baton of director Pavol Pitoňák for several weeks and dozens of people have participated in the process. However, all details are still shrouded in mystery. The presentation of the new cable car will be a spectacular Austrian-Liptov style show with DJ ӦTZI assisted by Igor Rattaj, the TMR boss. The whole ceremony will be live-streamed on social media of the Jasná resort. After that, everybody will move to the Happy End club where the Austrian hit maker will play his greatest hits and make the whole club dance already before midnight. A dance explosion, sexy dancers and spectacular costumes will create a stunning atmosphere at the winter opening in Jasná. The Austrian evening will be heard, seen and can be also tasted – the organisers have announced that a team led by Chef Vojto Artz is preparing a huge plate with 2,500 traditional Austrian Wiener schnitzels and much more! The evening programme that starts in Happy End at 8:00 pm and was almost sold out one week before the event will include the MALALATA DJ duo, DJ EKG and DJ JUST DAVE.
The whole day and night programme of the Winter Jasná Opening that will take place on 5 stages will be presented by Marcel Forgáč. The winter tourist season will be opened officially in Jasná. In addition to a special ice photo point that has been created exclusively for this occasion, there will be various sports activities, awesome music sets and great après-ski entertainment. Thanks to live broadcasting of JOJ ŠPORT TV from Biela púť organised in cooperation with the Slovak Olympic Committee, visitors will get a chance to meet a lot of successful Slovak sportsmen and Olympic athletes such as Petra Vlhová, Pavol Hurajt, Jakub Grigar, Martina Dubovská, Robo Vittek, Danka Barteková, Klaudia Medlová, Michal Martikán, Miro Lažo, Ľubo Sekeráš.
The biggest Slovak ski resort – Jasná has prepared several new things for the upcoming season including the most important one – a new cable car between Biela púť and Priehyba. Skiers will be happy about the reopening of the H-210 ski lift in Zadné Dereše, a new snowmaking system on the Slalomák piste and overall enhancement of the snowmaking infrastructure.
WINTER JASNÁ OPENING in numbers:
2 – number of lorries with light and sound technology for the Winter Jasná Opening
5 – number of stages for the day and night programme
11 – number of people in DJ ӦTZI's team
800 – number of concert and performance requests that DJ ӦTZI receives per year
2,000€ – price of Chopok chalet per night
2,500 – number of original Wiener schnitzels for the Austrian evening
2,000,000 – number of singles that DJ ӦTZI sold as the only Austrian artist in Germany
17,000,000€ – investment in the new cable car of Biela púť – Priehyba