LIPTOVSKÝ MIKULÁŠ (June 30, 2020) – For the first half of the financial year 2019/20 the Tatry mountain resorts, a.s. Group (TMR Group) reported revenues of EUR 67.6 mil., a 1.6% decrease year-over-year, operating profit before write-offs (EBITDA) improved 7.0% to EUR 27.6 mil., and net income reached EUR 6.9 mil.
The published consolidated results include the first half of the financial year 2019/20 (the period from November 1, 2019 to April 30, 2020).
"The past winter season 2019/20 was characterized by unfavorable weather in terms of snow conditions in our mountain resorts. Moreover, we were forced to end the season too early in our resorts and hotels, in mid-March, due to preventive measures to combat coronavirus. Because of the coronacrisis and weather problems we recorded a 17% lower visit rate in our mountain resorts year-over-year, excluding the Austrian resorts of Mölltaler Gletscher and Ankogel, which had their first season under the TMR management. Skiing on the Mölltaler Glacier was demanded mostly by Gopass clients – Slovak and Czech visitors. During Christmas holidays and New Year's Eve our resorts were yet again in high demand; we even had to stop online ski pass sales for one day for the first time in the Jasná resort. We managed to increase the average revenue per skier day by 23%. Despite the shorter season and the negative weather factors consolidated revenues compared to the same period last year decreased only 1.6%," Igor Rattaj, chairman of TMR's Board of Directors, commented on the results.
For the observed half-year period the TMR Group (Tatry mountain resorts, a.s. and its subsidiaries) achieved total consolidated revenues of EUR 67.6 mil, a 1.6% decline year-over-year.
The largest segment, Mountain Resorts, reported revenues 2.0% lower than in the same period last year, Leisure Parks declined in revenues by 9.8%, the latest Golf segment declined in revenues 17.8%, Dining reported a 2.7% increase, Sports Services and Stores were down 9.0%, the Hotels segment improved 2.7%, and Real Estate reported 33.3% lower revenues. The results for the first time include the winter season of the Austrian resorts Mölltaler Gletscher and Ankogel.
The visit rate in Mountain Resorts was 10.8% lower year-over-year and totaled 1.7 million visitors (skier days) due to a late start of the season and a premature end of the winter season in March because of the coronacrisis. The average revenue per visitor in Mountain Resorts improved 22.3%. Leisure Parks recorded a 3.1% fall in the number of visitors to 213 thousand, while Polish Legendia was only partly open in the winter season. The average revenue per visitor in Leisure Parks was 0.3% lower. In the dining facilities on the slopes, and in the leisure parks the average client spending was 15.3% higher than last year. Sports Services & Stores reported a 9.3% higher spending per visitor.
The average occupancy of the hotel portfolio fell by 17.8 percentage points to 46.9%. Average daily rate per room (ADR) on the portfolio level increased by 10.6% to EUR 116.36, whilst majority posted an improvement in its average rate.
EBITDA improved year-over-year by 7.0% to EUR 27.6 mil. primarily due to a change in IFRS accounting for operating leasing. As a result, operating profitability expressed as EBITDA margin increased by 3.3 percentage points to 40.8%. Net Income was achieved in the amount of EUR 6.9 mil., a 22.3% decrease. Earnings per share were reported in the amount of EUR 1.040.
By the end of FY 2019/20 the Board of Directors works with several scenarios on the development of the financial situation depending on the development of the preventive measures against the spread of coronavirus and their impact on the TMR Group's performance. TMR's results till the end of FY will be impacted by the summer season in the mountain resorts, leisure parks – Aquapark Tatralandia and Legendia – Silesian Amusement Park, in the golf segment, in TMR hotels, real estate projects, as well as in the ancillary services.
For more detailed results please visit https://tmr.sk/investor-relations/financial-information/financial-results-/.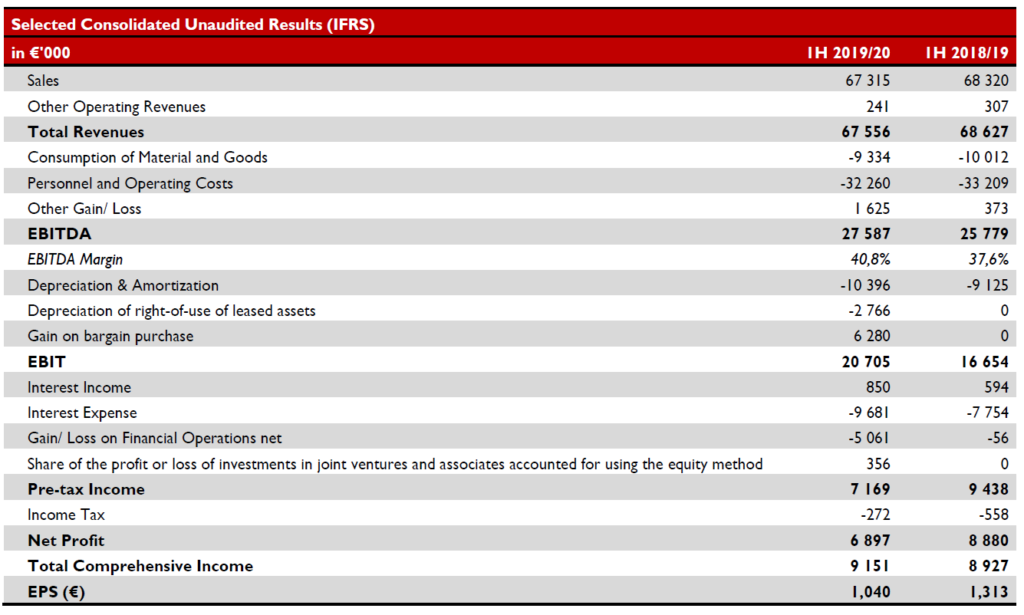 _______________________________________________
Tatry mountain resorts, a.s. (TMR) is the leader in tourism in Central and Eastern Europe; it owns or leases and operates attractive mountain resorts, amusement parks, golf resorts, restaurant facilities, sports services, stores and hotels. In the Low Tatras, Slovakia TMR owns and operates the resort Jasná Nízke Tatry and hotels Hotel Grand Jasná, Boutique Hotel Tri Studničky, Chalets Jasná De Luxe, Hotel Srdiečko, Hotel Pošta and Hotel Rotunda. TMR is also the owner of Aquapark Tatralandia, the largest Slovak water park with year-round operation, which besides water entertainment includes Tropical Paradise, a special tropical indoor hall with sea water, as well as Fun Park, and accommodation in bungalows and suites of Holiday Village Tatralandia. In Slovakia's High Tatras TMR owns and operates the resort Vysoké Tatry with mountain areas of Tatranská Lomnica, Starý Smokovec, and Štrbské Pleso. In the High Tatras TMR also owns hotels Grandhotel Praha Tatranská Lomnica, Grandhotel Starý Smokovec, Hotel FIS Štrbské Pleso and A night on Mt Lomnický štít. In Austria the Group owns and operates the alpine glacier resort, Mölltaler Gletscher, and its sister resort, Ankogel Mallnitz. In Czechia TMR also owns a minority share in Melida, a.s., which leases and operates the Špindlerův Mlýn resort. TMR also leases and operates the ski resort Ještěd, Golf & Ski Resort Ostravice and leases Kaskáda Golf Rezort Brno, where it runs a hotel, a restaurant and a conference centre. In Poland TMR owns and operates Szczyrk Mountain Resort and Legendia – Silesian Amusement Park (Śląskie Wesołe Miasteczko). Real estate projects are mostly focused on development, construction, and selling of apartments and non-residential premises and on hotel lease in the TMR resorts. By the end of 2019 around EUR 400 mil. had been invested into development and modernisation of TMR's resorts. TMR shares are traded on three European stock exchanges – in Bratislava, Prague, and Warsaw.