Stiahnuť PDF
Night trips to Skalnaté Pleso will be offered between 22nd December and 19th January (every Thursday) from 06:00pm. All those who are interested in learning more about history can discover all corners of the legendary cable car and have a look at its secret interior. A guide will take them to places which are usually not accessible for the public. In the evenings, sequences of the documentary called "A Story of a Cable Car" will be screened and a breathtaking view of the basin under the Tatras from the observation tower over the Encián gallery will make the overall experience just perfect. For more information, please visit www.vt.sk. All proceeds from the sale of tickets will be used to organise an architectonic competition that should decide how the original building of the old cable car will be used. The resort of Tatranská Lomnica is looking for ideas what to do with the building at Grandhotel Praha, which was designed by architect Dušan Jurkovič and has not been used since 2005. 
It has been 75 years since the suspension shuttle cable car left the station of Skalnaté Pleso for the first time and began to transport passengers to the highest located station on top of Mt. Lomnický štít. The construction process at the altitude of 2,634 metres had been a small technical miracle from the beginning as the project had been very venturous considering the times and had required great manual dexterity and work in difficult mountain terrain as well as unpredictable weather. Ordinary people from the region and the area around who were building the world record holder had to work in extreme altitude differences with help of workhorses and by using only their hands. Today, the cable car guarantees a once-in-alifetime experience for many who use it to get to Mt. Lomnický štít and the second highest peak of the Tatras is thus the highest inhabited place in the country. 
Historical facts: The original cable car that operated between Tatranská Lomnica and Mt. Lomnický štít was unique in several aspects. When considering the total length in both sections / Tatranská Lomnica – Skalnaté Pleso and Skalnaté Pleso – Mt. Lomnický štít/, i.e. 6 km, the distance between the support poles was the longest one in the world on 20/12/1941, when the cable car began to operate. In addition, it was surmounting the biggest altitude difference with one changing of cars (1,715 metres) when compared to other cable cars at that time.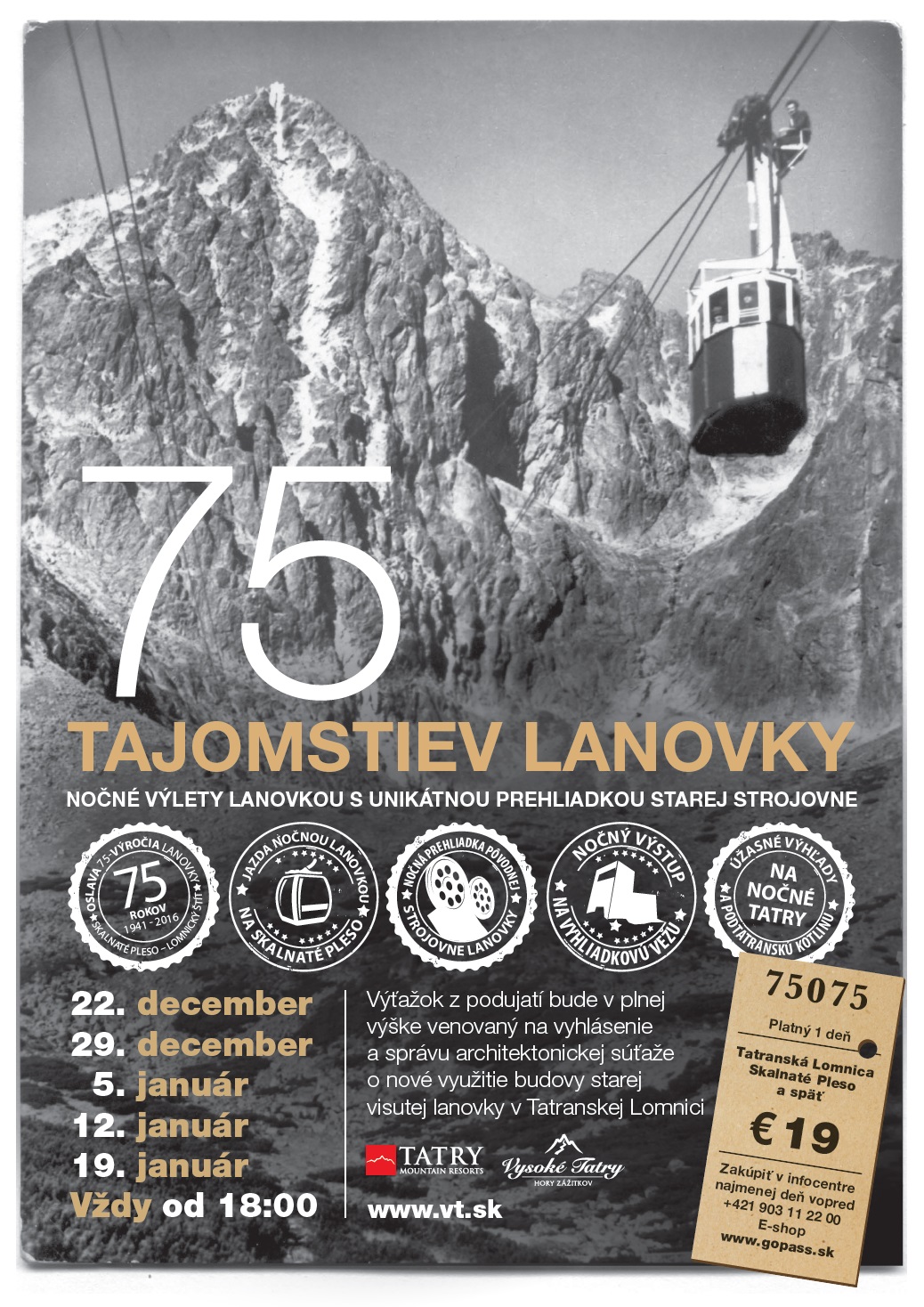 __________________________________________________________________________________
Tatry mountain resorts, a.s. (TMR) is the leader in tourism in Central and Eastern Europe; it owns and operates attractive mountain resorts, amusement parks, restaurant facilities, sports services, shops and hotels. In the Low Tatras TMR owns and operates the resort Jasná Nízke Tatry and hotels Wellness hotel Grand Jasná, Boutique Hotel Tri Studničky, Chalets Jasná De Luxe, Hotel Srdiečko, and Hotel Rotunda. TMR is also the owner of Aquapark Tatralandia, the largest Slovak aquapark with year-round operation, which besides water entertainment includes Tropical Paradise, a special tropical indoor hall with sea water, as well as Fun Park, and accommodation in bungalows and apartments of Holiday Village Tatralandia. In the High Tatras TMR owns and operates the resort Vysoké Tatry with mountain areas of Tatranská Lomnica, Starý Smokovec, and Štrbské Pleso, which TMR co-manages. In the High Tatras TMR also owns hotels Grandhotel Praha Tatranská Lomnica, Grandhotel Starý Smokovec, Hotel FIS Štrbské Pleso and Mountain hotel Hrebienok. TMR also owns a 9.5 % share in Melida, a.s., which leases and operates the resort Špindlerův Mlýn in the Czech Republic. In Poland TMR owns a 97% share in the mountain resort Szczyrkowski Ośrodek Narciarski S.A. (SON), a 75% share in a company that owns and operates Silesian Amusement Park (Śląskie Wesołe Miasteczko) and a 7.3% share in an amusement-educational project via the Polish company Korona Ziemi Sp. z.o.o. TMR also owns and leases hotels Slovakia, Kosodrevina, Liptov and Ski&Fun Záhradky a Bungalovy to third parties. By the end of 2015 EUR 206 mil. had been invested into development and modernisation of TMR's resorts. TMR shares are traded on three European stock exchanges – in Bratislava, Prague, and Warsaw.