Stiahnuť PDF
The Low Tatras
The holiday destination of Mt. Chopok changes to an oasis of deep green in summer. The 95km-long ridge of the Low Tatras invites tourists to take a walk along manifold hiking trails. The valley of Demänovská dolina is located in the National Park of the Low Tatras and is proud of jewels such as the karst of Demänová, Demänovská jaskyňa Slobody (cave of freedom), Demänovská ľadová jaskyňa (ice cave) and the biggest natural lake – Vrbické pleso (tarn). Families with children as well as active tourists can enjoy themselves to the fullest on cableway trips on both sides of Mt. Chopok (2,004 m above sea level) in summer, on tourist trails, while making easy walks in nature to the Symbolic cemetery or with a family game in the Dragon Park Chopok. Discovering the nature of the Liptov region along cycle routes can be an attractive option as well. Cyclists can rent electric bikes in Outlet Demänová. A mini bike park will be prepared for children in the area of Záhradky from 1st July, including a possibility of renting children´s bikes and foot-to-floor rides. All age groups can unwind in the area of Biela Púť in Jasná at Happy End with tubing on inflatable tubes or aquazorbing. A children´s merry-go-round will be available for kids at the lower Funitel station in the area of Priehyba from next Saturday 10th June and so will a bungee trampoline where one can jump high or do somersaults in absolute safety. Adrenalin lovers will love mountain carts on Mt. Chopok that are easy to control, families with children can use mountain carts in the area of Koliesko. Tourists that come from the southern side of Mt. Chopok can enjoy fun on four wheels in the area of Krupová, where also a bouncy castle will be prepared for the smallest children.
The semi-finals and finals of the 3rd round of the Slovak Downhill Cup take place on the best cycling downhill track between Rovná hoľa and Záhradky on Sunday 25th June. Spectators will have a chance to enjoy the attractive sports experience from the B1 chairlift. The race categories include elite masters, women, juniors, hobby, hardtail, youngsters and pupils. For more details, please click HERE.

The High Tatras
Local Tatra people are launching the summer tourist season on Friday 16th June by unlocking the water of Štrbské pleso (tarn) in a symbolic way, which means the beginning of the boating season as well. There are 20 rowing boats at disposal at a new pier and if wanted, clients can use the services of a private rower. Last summer, over 4,600 boats set out for the surface and over 16,000 of passengers were enjoying beautiful views from the tarn. Those who want to make a shortcut while hiking in the mountains or just wish to try another outdoor activity can use comfortable mountain carts at the interchange station of Štart in Tatranská Lomnica. The adventurous adrenalin downhill along a 2.8km-long track is suitable also for absolute beginners. Four animal friends of the Tatra Wilderness will be guiding children around the most interesting places in the Tatras this summer again. A Mini Fun Park with a mini train, archery, a slide and a trampoline will be opened at the lower funicular station in Starý Smokovec. And in the area of Hrebienok, kids can enjoy a ride down a 100 metre-long tubing track on an inflatable tube. For more details about attractions in the Tatras, please visit www.vt.sk.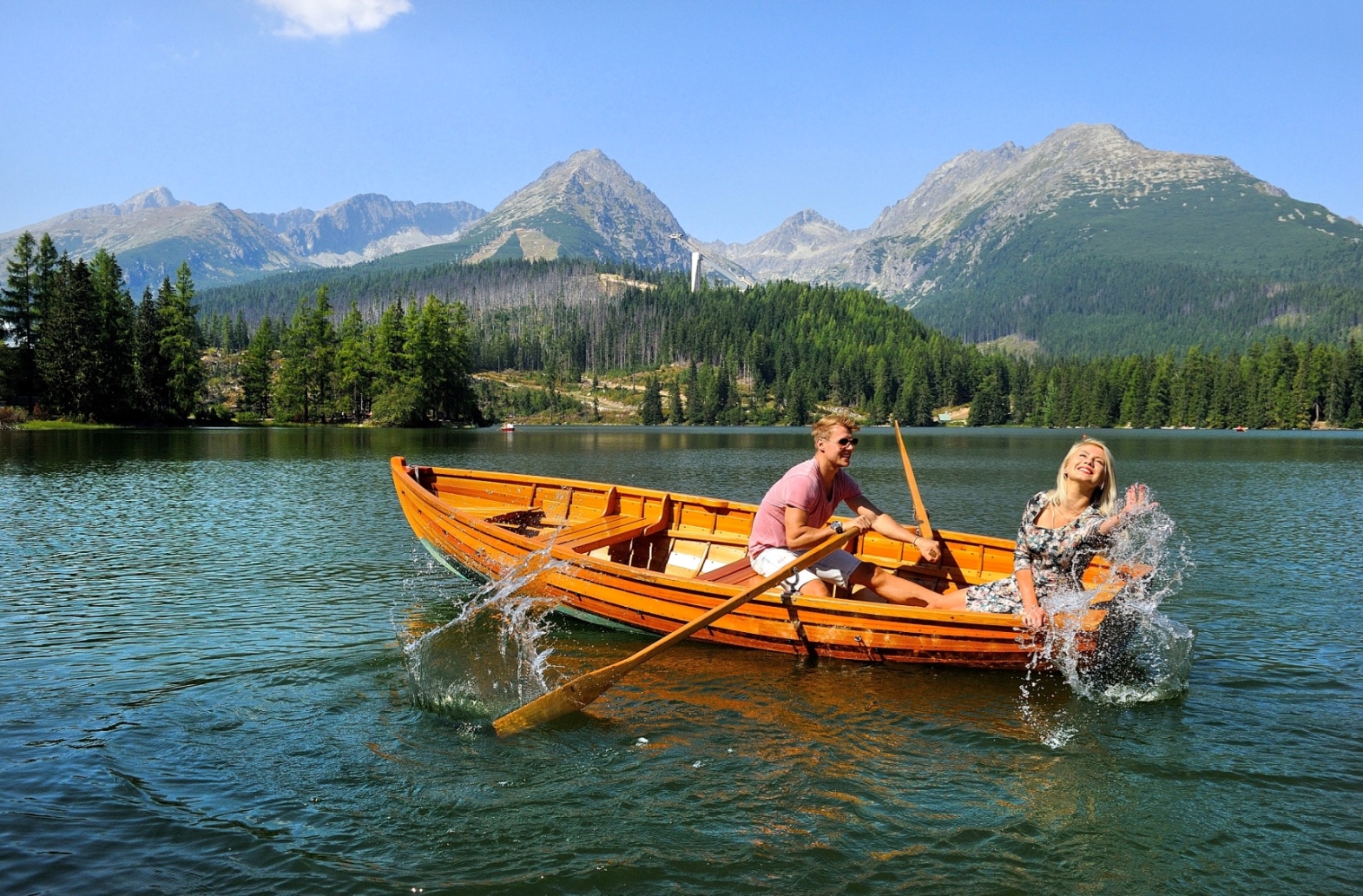 __________________________________________________________________________________
Tatry mountain resorts, a.s. (TMR) is the leader in tourism in Central and Eastern Europe; it owns and operates attractive mountain resorts, amusement parks, restaurant facilities, sports services, shops and hotels. In the Low Tatras TMR owns and operates the resort Jasná Nízke Tatry and hotels Wellness hotel Grand Jasná, Boutique Hotel Tri Studničky, Chalets Jasná De Luxe, Hotel Srdiečko, and Hotel Rotunda. TMR is also the owner of Aquapark Tatralandia, the largest Slovak aquapark with year-round operation, which besides water entertainment includes Tropical Paradise, a special tropical indoor hall with sea water, as well as Fun Park, and accommodation in bungalows and apartments of Holiday Village Tatralandia. In the High Tatras TMR owns and operates the resort Vysoké Tatry with mountain areas of Tatranská Lomnica, Starý Smokovec, and Štrbské Pleso, which TMR co-manages. In the High Tatras TMR also owns hotels Grandhotel Praha Tatranská Lomnica, Grandhotel Starý Smokovec, Hotel FIS Štrbské Pleso and Mountain hotel Hrebienok. TMR also owns a 9.5 % share in Melida, a.s., which leases and operates the resort Špindlerův Mlýn in the Czech Republic. In Poland TMR owns a 97% share in the mountain resort Szczyrkowski Ośrodek Narciarski S.A. (SON), a 75% share in a company that owns and operates Silesian Amusement Park (Śląskie Wesołe Miasteczko) and a 7.3% share in an amusement-educational project via the Polish company Korona Ziemi Sp. z.o.o. TMR also owns and leases hotels Slovakia, Kosodrevina, Liptov and Ski&Fun Záhradky a Bungalovy to third parties. By the end of 2016 EUR 230 mil. had been invested into development and modernisation of TMR's resorts. TMR shares are traded on three European stock exchanges – in Bratislava, Prague, and Warsaw.