Stiahnuť PDF
They didn´t need to travel far abroad to feel like in Hawaii for a while. The first Saturday of November was full of ladies with flower necklaces and gentlemen with the same pattern on their shorts who enjoyed a tropical summer day in pools and accumulated positive energy during an amazing Batida drummer show. Last but not least, they improved their Hawaiian dancing skills too.
Hawaiian dances are not only ordinary body movements. They express stories, feelings, the past and present of people who live on the Hawaiian Islands. Legend has it that Laka, the goddess of Hula, was travelling around the islands and sharing the dance with all people who wanted to learn it. "Our park animators were doing the same in Tatralandia on Saturday, teaching everybody around," explained Ivana Gežíková, the water park brand manager. 
And when the sun went down in the tropical paradise, all dancers assembled and showed what they had learned. Igor Svítok, the commissioner of the Slovak Book of Records was watching them carefully. "It was 321 people, aka record holders at the Hawaii & Halloween Party performing Hawaiian dances collectively. The plan was to set a record and it was a success. We need to thank all our park visitors for not being shy and taking part in our mass dance," concluded I. Gežíková.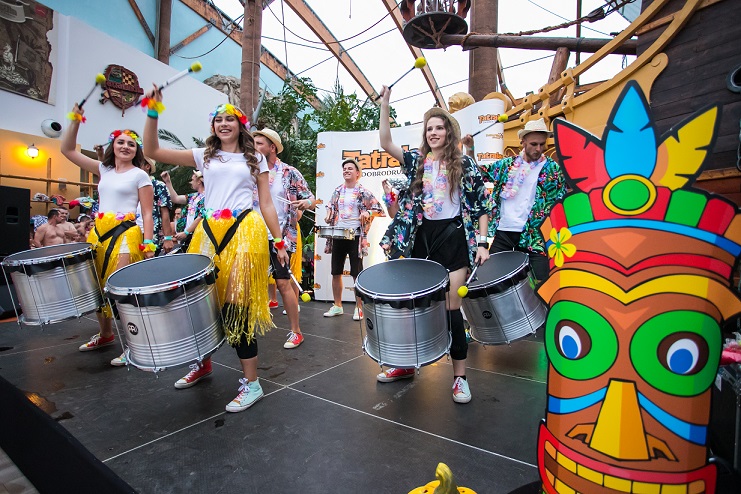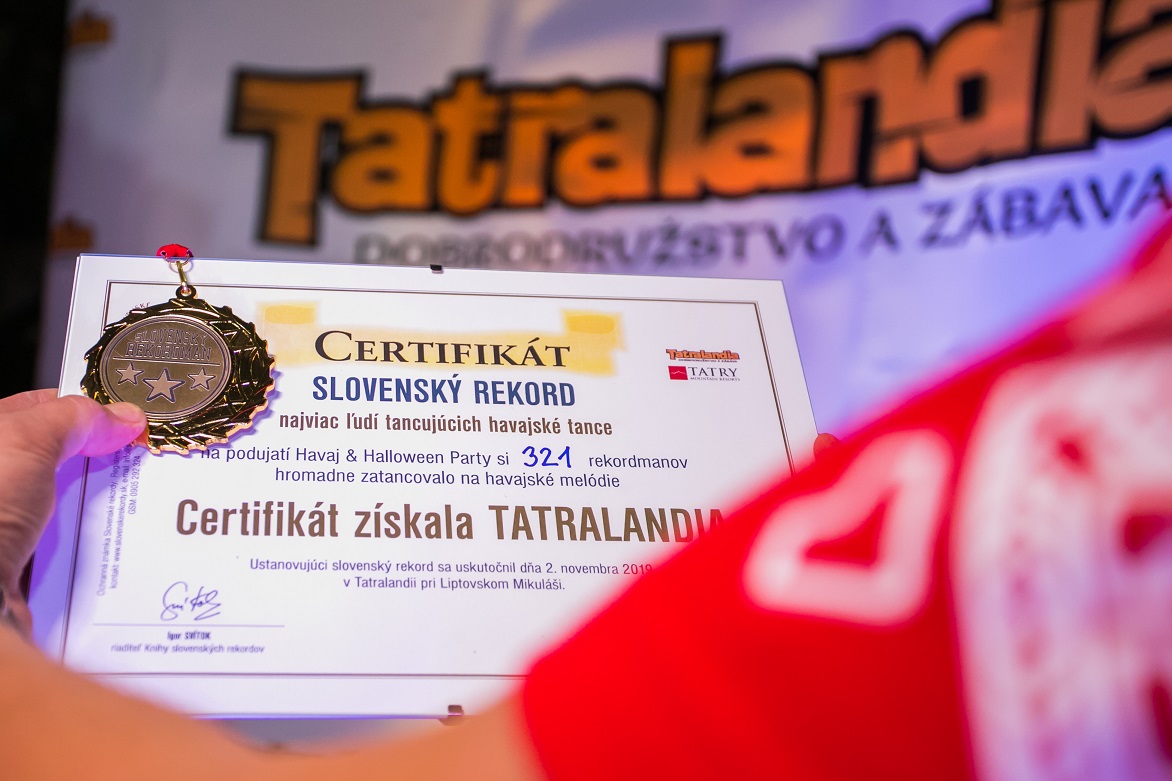 _________________________________________
Tatry mountain resorts, a.s. (TMR) is the leader in tourism in Central and Eastern Europe; it owns or leases and operates attractive mountain resorts, amusement parks, golf resorts, restaurant facilities, sports services, stores and hotels. In the Low Tatras, Slovakia TMR owns and operates the resort Jasná Nízke Tatry and hotels Hotel Grand Jasná, Boutique Hotel Tri Studničky, Chalets Jasná De Luxe, Hotel Srdiečko, Hotel Pošta and Hotel Rotunda. TMR is also the owner of Aquapark Tatralandia, the largest Slovak water park with year-round operation, which besides water entertainment includes Tropical Paradise, a special tropical indoor hall with sea water, as well as Fun Park, and accommodation in bungalows and suites of Holiday Village Tatralandia. In Slovakia's High Tatras TMR owns and operates the resort Vysoké Tatry with mountain areas of Tatranská Lomnica, Starý Smokovec, and Štrbské Pleso, which TMR co-manages. In the High Tatras TMR also owns hotels Grandhotel Praha Tatranská Lomnica, Grandhotel Starý Smokovec, Hotel FIS Štrbské Pleso and A night on Mt. Lomnický štít. In Austria the Group owns and operates the alpine glacier resort, Mölltaler Gletscher, and its sister resort, Ankogel Mallnitz. In Czechia TMR also owns a minority share in Melida, a.s., which leases and operates the Špindlerův Mlýn resort. TMR also leases and operates the ski resort Ještěd, Golf & Ski Resort Ostravice and leases Kaskáda Golf Rezort Brno, where it runs a hotel, a restaurant and a conference centre. In Poland TMR owns and operates Szczyrk Mountain Resort and Legendia – Silesian Amusement Park (Śląskie Wesołe Miasteczko). Real estate projects are mostly focused on development, construction, and selling of apartments and non-residential premises and on hotel lease in the TMR resorts. By the end of 2018 around EUR 350 mil. had been invested into development and modernisation of TMR's resorts. TMR shares are traded on three European stock exchanges – in Bratislava, Prague, and Warsaw.