Stiahnuť PDF
The weekend of emotions begins on Friday at 05:00pm in the Liptov Arena in the area of Tatralandia with a football battle of TV and radio presenters Rasťo Sokol, Arieli, Mirec, actors Igor Krempaský, Oldo Hlaváček, football internationals Tomáš Medveď, Štefan Maixner, Laco Pecko, bodybuilding world champion Luboš Maliňák and others. The Slovaks will have attractive rivals from the Polish team in individual disciplines such as Rafał Brzozowski, Piotr Zelt, Piotr Świerczewski, Przemek Cypryański, Rafał Mroczek, Antek Królikowski and others. The FOOTBALL battle is free of charge for all spectators in the Liptov Arena. After the exciting football derby, the celebrities will be competing in water – on the surf waves in Tatralandia after 08:00pm. The original SURF battle will test their strength and physical form individually and decide which team manages to "tame" the artificial waves of Maui and Waikiki. The action will move to the snow-covered slopes of Mt. Chopok on Saturday 21st January. The team of Mufuza will be competing along with the representatives of the Polish RAP in a giant slalom race on the red piste 1a Pretekárska Luková – Priehyba in two rounds – at 10:30am and 12:00noon. The SKI battle will be joined also by people from the ski resort of Jasná Nízke Tatry, who will have a separate team and make the Jasná Celebrity Winter Cup even more interesting. The race on Mt. Chopok will be hosted by entertainer Stano Galis. Besides the competition, there is a great aprés-ski party on the slope prepared in the area of Priehyba with DJ Publik on a special groomer stage. For more details about individual battles and celebrities, please click HERE.
Skiers are enjoying 40 km of ski slopes on both sides of Mt. Chopok these days. There is 30-60 cm of snow on 33 pistes and very good snow conditions. Clients who visit the ski resort can choose from various attractive and entertaining activities while spending their winter holidays. The wide offer includes e.g. Fresh Track – skiing on untouched pistes before the cableways begin to operate officially, evening skiing on the lit piste of Biela Púť, a closed FUN zone for children in the locality of Otupné, the lower section of piste no. 10 Vrbická offers the so called snow park Jasná and ski tourers can take part in organised mass evening tours along marked routes. Lovers of good food can please their taste buds during traditional culinary evenings such as Full Moon Dinner in the Rotunda restaurant, Tatra Dinner of Emotions in the Von roll Restaurant Luková or at the 4th Culinary week event.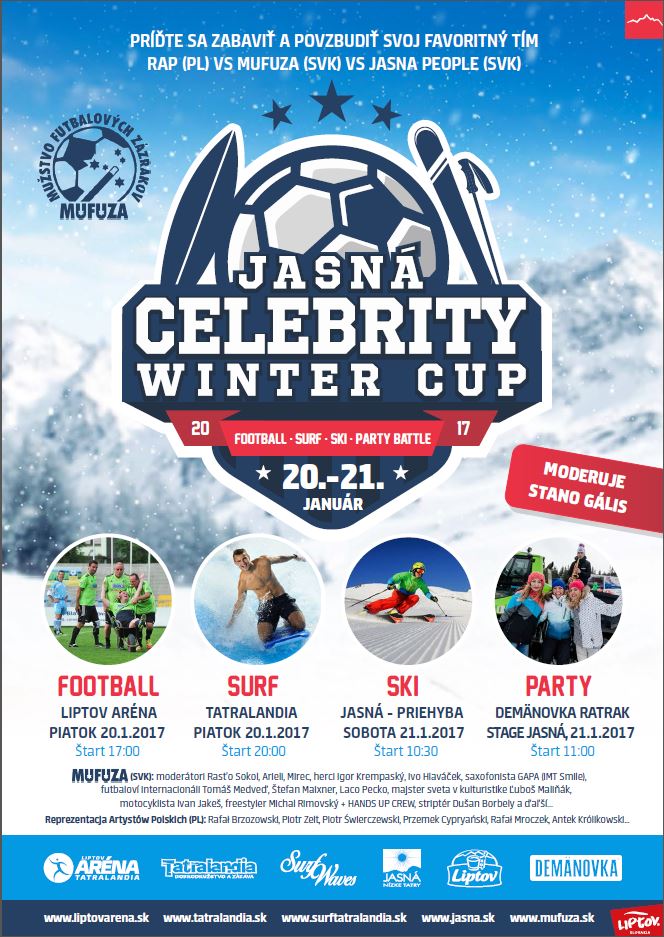 __________________________________________________________________________________
Tatry mountain resorts, a.s. (TMR) is the leader in tourism in Central and Eastern Europe; it owns and operates attractive mountain resorts, amusement parks, restaurant facilities, sports services, shops and hotels. In the Low Tatras TMR owns and operates the resort Jasná Nízke Tatry and hotels Wellness hotel Grand Jasná, Boutique Hotel Tri Studničky, Chalets Jasná De Luxe, Hotel Srdiečko, and Hotel Rotunda. TMR is also the owner of Aquapark Tatralandia, the largest Slovak aquapark with year-round operation, which besides water entertainment includes Tropical Paradise, a special tropical indoor hall with sea water, as well as Fun Park, and accommodation in bungalows and apartments of Holiday Village Tatralandia. In the High Tatras TMR owns and operates the resort Vysoké Tatry with mountain areas of Tatranská Lomnica, Starý Smokovec, and Štrbské Pleso, which TMR co-manages. In the High Tatras TMR also owns hotels Grandhotel Praha Tatranská Lomnica, Grandhotel Starý Smokovec, Hotel FIS Štrbské Pleso and Mountain hotel Hrebienok. TMR also owns a 9.5 % share in Melida, a.s., which leases and operates the resort Špindlerův Mlýn in the Czech Republic. In Poland TMR owns a 97% share in the mountain resort Szczyrkowski Ośrodek Narciarski S.A. (SON), a 75% share in a company that owns and operates Silesian Amusement Park (Śląskie Wesołe Miasteczko) and a 7.3% share in an amusement-educational project via the Polish company Korona Ziemi Sp. z.o.o. TMR also owns and leases hotels Slovakia, Kosodrevina, Liptov and Ski&Fun Záhradky a Bungalovy to third parties. By the end of 2015 EUR 206 mil. had been invested into development and modernisation of TMR's resorts. TMR shares are traded on three European stock exchanges – in Bratislava, Prague, and Warsaw.