Get your sledge ready! The sledging trail between Hrebienok and Starý Smokovec is already opened
Stiahnuť PDF
All winter sport lovers and tourists who come to the Tatras can enjoy great fun in Hrebienok, Starý Smokovec again. Although there has not been a lot of snowfall, it is enough for sledging and the trail is well prepared. "Sledging is a very popular family attraction, groups of friends like it too," said Lukáš Brodanský, the sales-marketing manager of the Vysoké Tatry resort.
Currently, there is about 10 cm of snow on the 2.5km long trail. "The trail is suitable also for less experienced sledgers because the inclination is very moderate. Braver adventurers can speed up to enjoy more adrenalin while zooming down," added Lukáš Brodanský. The trail is opened during the day from 9:00am to 4:30pm. There is a sledge rental located next to the lower station of the funicular that operates to Hrebienok and can be used by sledgers too.
Night sledging can be also magical. "When the trail is lit, the experience is much different and unforgettable," emphasised Mr. Brodanský. The trail will be available for night sledging from 21st December if the conditions are good.
Hrebienok offers much more than sledging, though. The spectacular Tatra Temple of Ice was built of 225 tonnes of ice by sculptors from Slovakia, Czechia, Poland, Lithuania and Germany, and Adam Bakoš from Slovakia as the main designer. This year, it was inspired by the Notre Dame cathedral and Quasimodo´s bell tower.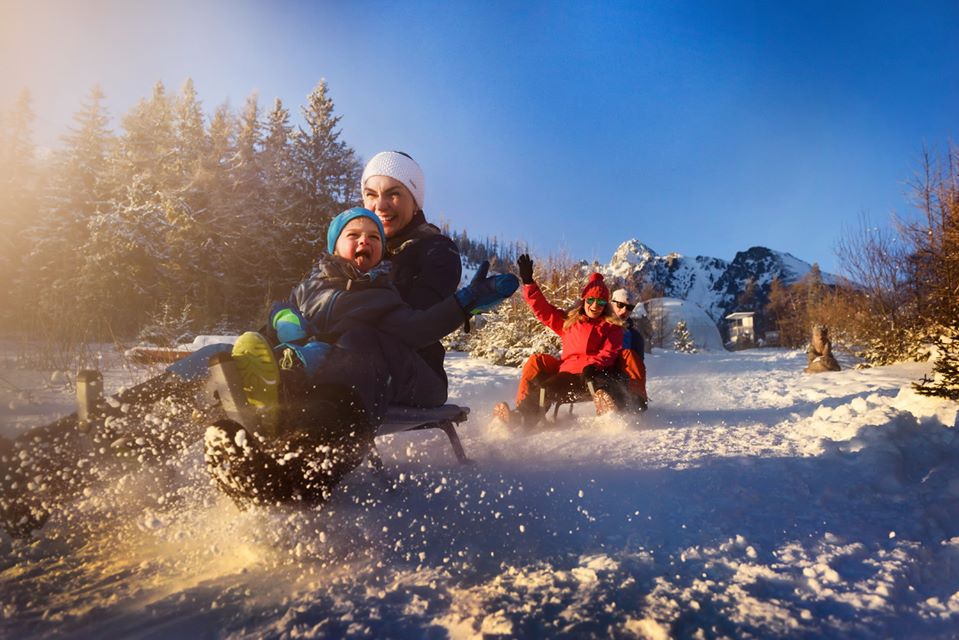 ______________________________________________________________________________________
Tatry mountain resorts, a.s. (TMR) is the leader in tourism in Central and Eastern Europe; it owns or leases and operates attractive mountain resorts, amusement parks, golf resorts, restaurant facilities, sports services, stores and hotels. In the Low Tatras, Slovakia TMR owns and operates the resort Jasná Nízke Tatry and hotels Hotel Grand Jasná, Boutique Hotel Tri Studničky, Chalets Jasná De Luxe, Hotel Srdiečko, Hotel Pošta and Hotel Rotunda. TMR is also the owner of Aquapark Tatralandia, the largest Slovak water park with year-round operation, which besides water entertainment includes Tropical Paradise, a special tropical indoor hall with sea water, as well as Fun Park, and accommodation in bungalows and suites of Holiday Village Tatralandia. In Slovakia's High Tatras TMR owns and operates the resort Vysoké Tatry with mountain areas of Tatranská Lomnica, Starý Smokovec, and Štrbské Pleso, which TMR co-manages. In the High Tatras TMR also owns hotels Grandhotel Praha Tatranská Lomnica, Grandhotel Starý Smokovec, Hotel FIS Štrbské Pleso and A night on Mt. Lomnický štít. In Austria the Group owns and operates the alpine glacier resort, Mölltaler Gletscher, and its sister resort, Ankogel Mallnitz. In Czechia TMR also owns a minority share in Melida, a.s., which leases and operates the Špindlerův Mlýn resort. TMR also leases and operates the ski resort Ještěd, Golf & Ski Resort Ostravice and leases Kaskáda Golf Rezort Brno, where it runs a hotel, a restaurant and a conference centre. In Poland TMR owns and operates Szczyrk Mountain Resort and Legendia – Silesian Amusement Park (Śląskie Wesołe Miasteczko). Real estate projects are mostly focused on development, construction, and selling of apartments and non-residential premises and on hotel lease in the TMR resorts. By the end of 2018 around EUR 350 mil. had been invested into development and modernisation of TMR's resorts. TMR shares are traded on three European stock exchanges – in Bratislava, Prague, and Warsaw.