The preparations for the upcoming winter season are approaching their climax in individual ski resorts. And the Gopass portal, which has just launched the advance sale of 1-day and multi-day ski passes, will serve as a symbolic door into the world of the best winter adventures in the ski resorts of Jasná, Vysoké Tatry and in other ski resorts in the Czech Republic, Poland and Austria.
The ski pass advance sale beginning means that clients can finally plan their skiing adventures at the best prices. The advance sale is based on flexible pricing again, i.e. there is a simple principle, the same one as with plane tickets – the sooner you buy, the better is the price.
"Advance sale online prices will always be better when compared to prices at ticket offices in resorts. It's up to individual skiers to decide if they prefer cheaper ski passes on less crowded days or they want to enjoy skiing at a higher price in holiday periods. But they don't need to be worried about buying ski passes in advance because these can be rebooked, i.e. the date can be changed at a symbolic fee later," informed Matej Lackovič from Gopass.
Please find the planned ski resort opening dates (provided there are good snow and weather conditions) below:
| | |
| --- | --- |
| Ski resort | Planned opening date |
| Jasná | 3. 12. |
| Tatranská Lomnica | 17. 12. |
| Štrbské Pleso | 10. 12. |
| Szczyrk | 17. 12. |
| Špindlerův Mlýn | 10. 12. |
| Ještěd | 10. 12. |
| Mӧlltaler Gletscher | opened from 10. 11. |
| Ankogel | 17. 12. |
| Muttereralm Innsbruck | 17. 12. |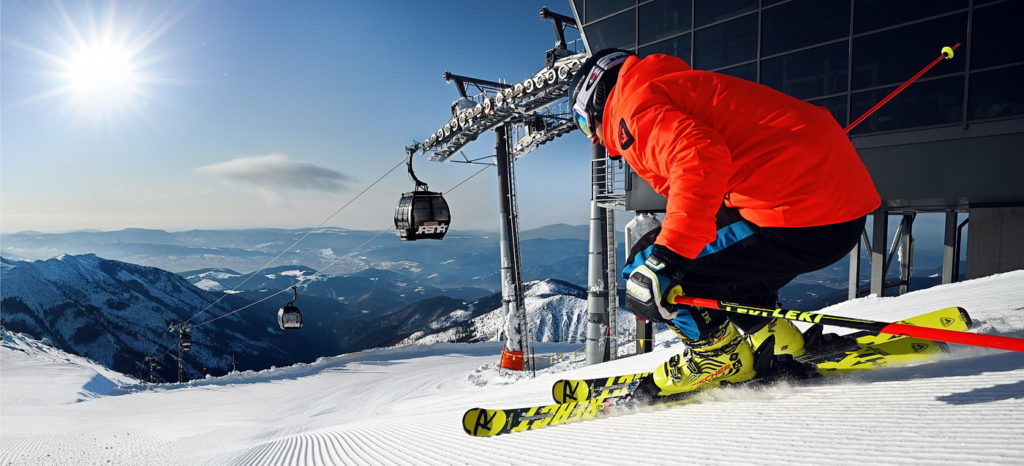 The biggest ski resort in Slovakia – Jasná has several innovations planned for the new season. "A new cable car between Biela púť and Priehyba will be the biggest hit and should be opened officially at a spectacular Winter Jasná Opening party with DJ ӦTZI as a special guest. Skiers will be happy to hear about the reopening of the renewed H-210 ski lift in Zadné Dereše, the snowmaking system enhancement as well as the change of the Rotunda and Happy End restaurants to self-service facilities," informed Jiří Trumpeš, the resort general manager. In cooperation with the village of Demänovská dolina and OO CR Región Liptov (regional tourism organisation), more shuttle busses will be operating and a new parking concept will be introduced in the area of Biela púť due to ongoing construction works. "In Jasná and in Tatranská Lomnica in the High Tatras, special Comfort parking will be available at a surcharge via Gopass, i.e. a limited number of the best parking spaces
with parking guaranteed even at the busiest times. Skiers with 1-day ski passes can park with discounts, PREMIUM Smart Season Pass holders can park at selected designated car parks for free," added Lukáš Brodanský, a manager in the Vysoké Tatry resort. Clients who are thinking about skiing
in the mountain resorts of Jasná and Vysoké Tatry can use the special offer of the TMR hotels chain. "Each guest who stays at our mountain hotels will automatically have a ski pass or a cable car ticket included, for guests staying at the Tri Studničky hotel, there are also Fast Passes included, which means skiing without queuing," said Michal Gejdoš, a hotel chain manager.
Women's alpine skiing World Cup races will be the most important event of the winter season in the most popular Czech ski resort – Špindlerův Mlýn. On 28th and 29th January 2023, a slalom and giant slalom race take place there and a lot of fans not only from the Czech Republic but also from Slovakia and Poland are expected to come. The general public will be glad to hear that except the racing FIS World Cup piste and a training course, all other pistes will be opened during the event.
Skiareál Ještěd in the Czech Republic has prepared a lot of new things as well. "In addition to the fact that we will be probably the first resort in the Czech Republic to have automated ticket machines only, our fans can look forward to snowmaking system enhancement also in the kid's ski school area, which will guarantee flawless conditions also for small skiers. Brand new snow tubing will promise great fun, a wider gastronomy offer including healthy delicacies and more evening and extra activities will be appreciated as well, for sure. We also have a new product meant for ski touring fans – marked trails and instructors ready to help our clients to learn the secrets of this sport," revealed Jakub Hanuš, the resort general manager. The Nová Skalka piste is the biggest hit of the ski resort accessible also with a tram from Liberec and offers perfect night skiing on a 1.5 km long and 45 m wide piste thanks to a modern and energy-saving lighting system.
The Szczyrk Mountain Resort in Poland will offer a lot to all kinds of skiers in winter. Ski touring fans will appreciate several new products such as sunset and sunrise tours or evening skiing with head lamps, the K2 Ski touring Academy is part of the resort offer as well. Families with kids can enjoy the weekend Academy of Max the Bear, i.e. group skiing lessons as well as 5-day kid's care packages combined with an attractive programme full of activities. "I hope the upcoming winter season will be full of smiling faces, good emotions and great snow conditions! And that it will be the best season in the history of Szczyrk when skiers and snowboarders can enjoy flawless mountain freedom on almost 40 km of pistes while staying safe," said Michal Slowioczek, a resort manager. In addition, the Ski & Bike Gronie Hotel located next to the ski resort has prepared something special too and offers ski passes as well as fast passes, i.e. skiing without queuing included in accommodation prices.
This winter with Gopass guarantees not ski passes at better prices in ski resorts operated by the TMR company but also in other resorts that Gopass cooperates with – Heiligenblut am Grossglockner in Austria and Kronplatz in Italy. In addition, the Monínec resort in the Czech Republic with several pistes near Prague is a planned new member of the GOPASS offer. The resort with a modern snowmaking system offers complex services including a ski school, a ski rental and a ski service facility. Monínec ski passes will be available at flexible prices on gopass.travel soon.
The PREMIUM Smart Season Pass represents the best-price skiing guarantee tailored for active skiers
again and includes skiing on more than 200 km of pistes in 10 resorts in 4 countries. Every Premium Smart Season Pass is valid in the following resorts: Jasná (SK), Tatranská Lomnica (SK), Štrbské Pleso (SK), Starý Smokovec (SK), Szczyrk (PL), Špindlerův Mlýn (CZ), Ještěd (CZ), Mölltaler Gletscher (AT), Ankogel (AT), Muttereralm Innsbruck (AT) all winter season long. A 15% discount on products in selected Motion facilities and gastronomy facilities on ski pistes is a special bonus. PREMIUM Smart
Season Passes are available at the special price of EUR 549 / CZK 13,990 until the end of November. From December to the end of the season, they will cost EUR 649 /CZK 15,990.
The www.gopass.travel website not only offers ski passes but also includes a carefully chosen selection of the best adventures, extra advantages including the best-price guarantee, booking without worrying about cancelling and with postponing the date of use, the possibility to collect loyalty points and redeem them for other products at TMR facilities. After upgrading self-service GOPASS ticket machines, GOPASS cards can be issued in an easier way without the need to go to ticket offices. As for other new important benefits, cancelled or topped up credit can be now used also in gastronomy facilities. In addition, the GOPASS app has been updated to offer an inspiring feed of great experiences, an e-shop as well as suggestions of trips, instructions and blogs about interesting topics, interactive resort maps and all latest updates and news.
Price list Mӧlltaler Gletscher