Miroslav Donutil and Daniel Hevier have officially opened their rooms in Grandhotel Starý Smokovec in the High Tatras
HIGH TATRAS (27th October 2022) A popular actor and a well-liked writer and lyricist. Two significant personalities of the Czech and Slovak culture met at Grandhotel Starý Smokovec in the High Tatras to launch hotel rooms that had been named after them.
The tradition of dedicating suites in Grandhotel Starý Smokovec to significant personalities of the Czech and Slovak cultural and social life that have a close relationship to the hotel began in 2018 after extensive interior renovation of this first big hotel in the Tatras. The suites of Vlasta Burian, the king of comedians, Olympic winners Emil and Dana Zátopek, actress Emília Vášáryová and singing diva Lucie Bílá have been joined by two more recently – dedicated to Miroslav Donutil and Daniel Hevier.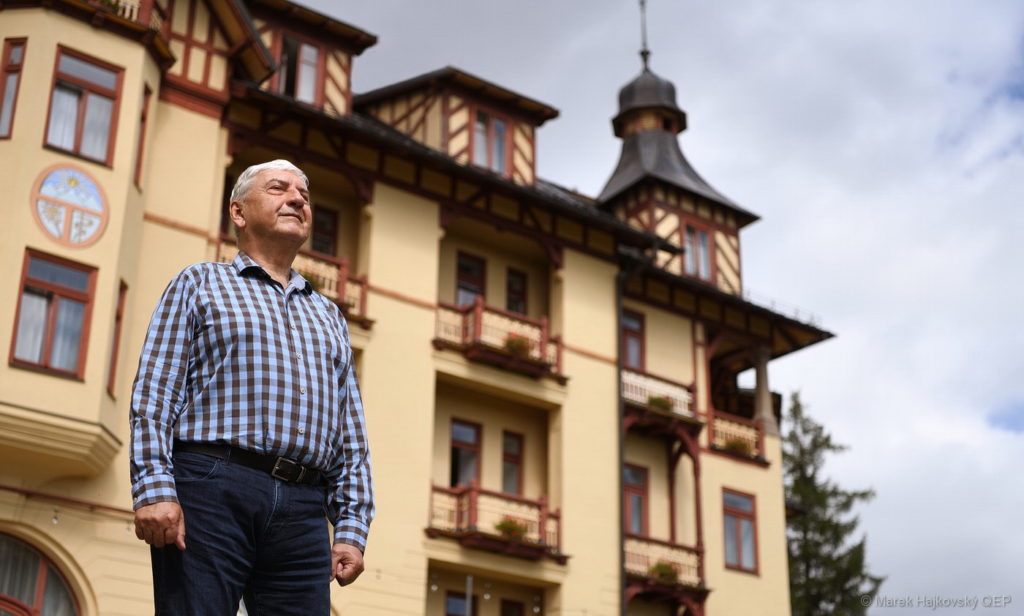 The Czech actor felt truly honoured. "It is a beautiful feeling. The company is fantastic and I am honoured to be part of it," said Miroslav Donutil while staying in Starý Smokovec. He got to know the hotel while shooting the film – Román pre mužov (Novel for men) before and found everything there that one would expect from a hotel. "The first thing that always comes to my mind is a soft bed, then hotel comfort, which is very important at an advanced age, and this is closely related to a flawless breakfast, a great restaurant. And I like it when my hotel room includes a terrace or a balcony with a nice view – which is definitely the case here. And the view is beautiful," he commented while feasting his eyes on the peaks of the Tatras and the lovely church of Starý Smokovec. And what's his message for guests who will stay at "his" suite in future? "Now I have a possessive, home-like relationship to this suite. So please, don't make a mess here," added Miroslav Donutil with a smile on his face.
The first writer ever to have a dedicated room in Grandhotel Starý Smokovec is Daniel Hevier, a writer and lyricist. As he is known mainly for writing literature for children, his room is a family one.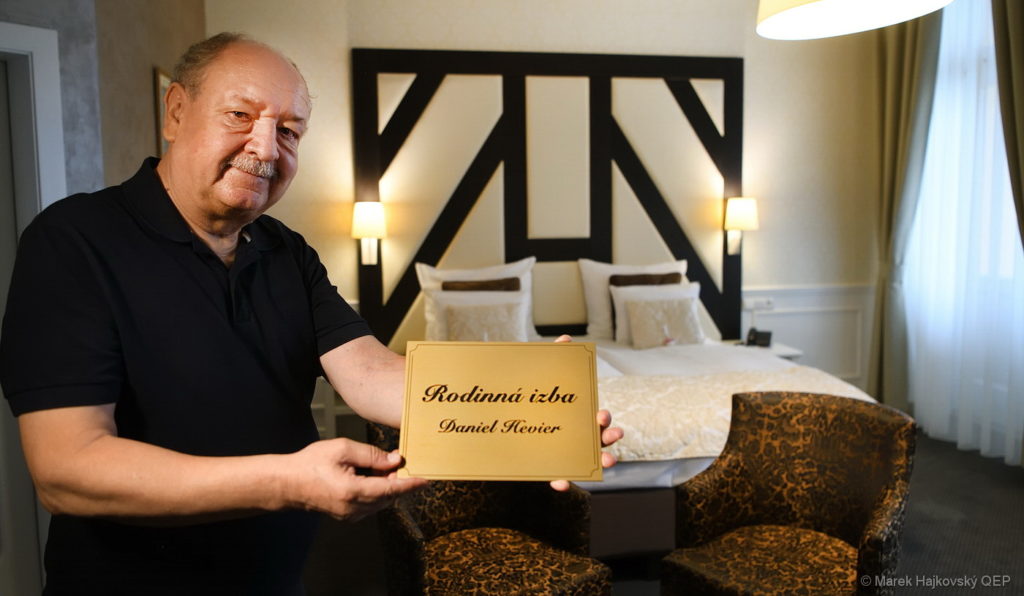 "I am deeply touched. It is an honour for me and also a kind of satisfaction that somebody noticed what I do and wanted me to stay here longer in this way. And I am talking about the people who will sleep in this suite. That's why I did my best to offer them some 'eye candy' i.e. my paintings, photos and to create a cheerful atmosphere. As it is a family room, I have brought my ninth class school report so that a son or a daughter can tell their parents: Look, Hevier had Bs, too," said Daniel Hevier, smiling. The room decoration includes his Ode to Starý Smokovec, which was composed by Daniel Hevier exclusively on this occasion and where he played with words and their senses like he often does. "Starý Smokovec is called old (starý = old in Slovak), but it offers youth. It is sometimes embraced by fog or rain, but people can always keep the sun in their hearts," explained Daniel Hevier.
The suite of Miroslav Donutil as well as the family room of Daniel Hevier are along with other dedicated suites fully at disposal for the general public. "Every dedicated suite is marked with the respective name on the door. Inside, there are paintings, photos, books and other interesting items related to the life of the personalities that the suites are named after. In addition, the hotel menu and the drinks list include various specialities based on the preferences of individual personalities," said Matej Fujka, the general manager of Grandhotel Starý Smokovec.
Each guest who stays at any of the dedicated suites, at any other room of Grandhotel Starý Smokovec or other TMR hotels during the upcoming winter season can enjoy a generous benefit in the form of ski passes included every day. Please read more on tmrhotels.com.
A bit of hotel history:
Grandhotel**** Starý Smokovec built in Art Nouveau style was officially opened as one of the first three big hotels in the Tatras on 30th June 1904. It was categorised as a prestigious establishment from the beginning and had 3 storeys with 150 rooms (120 rooms for hotel guests) and 11 axes on the main facade. The luxurious interior, provided services and comfort made it one of the most popular hotels in the whole High Tatras and this news spread around the world very fast. The hotel was full of guests ever since and it was declared one of top 10 mountain hotels in the world before WWI. The Hoepfner family played the most important role in the hotel construction process and the development of Starý Smokovec as such. Gustav Hoepfner Sr., the then director of the Spiš credit and industrial bank, inspired the bank to invest in Starý Smokovec. The hotel was built during the era of his son Gustav Hoepfner Jr., who persuaded the bank's board of directors that a hotel needs to be built. In honour of this significant family, the biggest conference room in the hotel is named "Hoepfner hall". Meetings held inside offer beautiful views into the distance and impressive sunsets. The idea to build Grandhotel and revive tourism with help of it proved to be a good one because after it was opened, the number of visitors doubled in Starý Smokovec. This first big hotel in the Tatras was proud to welcome several eminent personalities in the past – Crown Prince Frederick Augustus of Saxony, Czechoslovak President Eduard Beneš, British Prime Minister Harold Wilson, Fidel Castro and many others.