Stiahnuť PDF
"The original and creative contest will be organised in Bešeňová for the second time. All visitors and fans of modern wellness relaxation will love the rejuvenating and regenerating peeling treatments that will be presented. The best of the best masters from Bešeňová will qualify for the world Sauna Herbal Cup 2019, which is a great motivation factor," said Peter Kolenčík on behalf of the general manager of the Bešeňová water park.
A professional international jury is going to evaluate the visual aspect of individual peelings, the use of natural ingredients, professional approach, creativity of the treatments offered in a sauna and many other criteria – including presentation and explanation, steam and hot air swirling, care for clients. During the first contest phase, the participants will be preparing and presenting their peeling creations for the jury and water park clients. The visual aspect, consistency and taste of the products will be evaluated by a special jury member, a TV chef and modern gastronomy specialist – Ivan Rusina. The second contest phase will be all about presenting the peeling treatments in a steam sauna. Wellness centre visitors will get a chance to experience the treatments during the contest too.
Water park clients will be not only offered to enjoy professional treatments of sauna masters but also to vote and help choose the cup champion. The peeling master whose creation will be found most attractive by wellness centre visitors will win the Clients´ Award. The peelings will be on display in the wellness & spa centre during the whole weekend. Various sauna rituals of special guests from first-class Slovenian wellness centres are going to be offered in the Sauna Tempe on Saturday, several workshops and stalls with wellness products will be at disposal too.
Wellness fans that don´t plan to stay at Bešeňová during the contest can use another attractive offer. Reduced-rate tickets to two biggest water parks in the region of Liptov – Bešeňová and Tatralandia are available with 50% off on GOPASS until 9th March and can be used until the end of June 2019.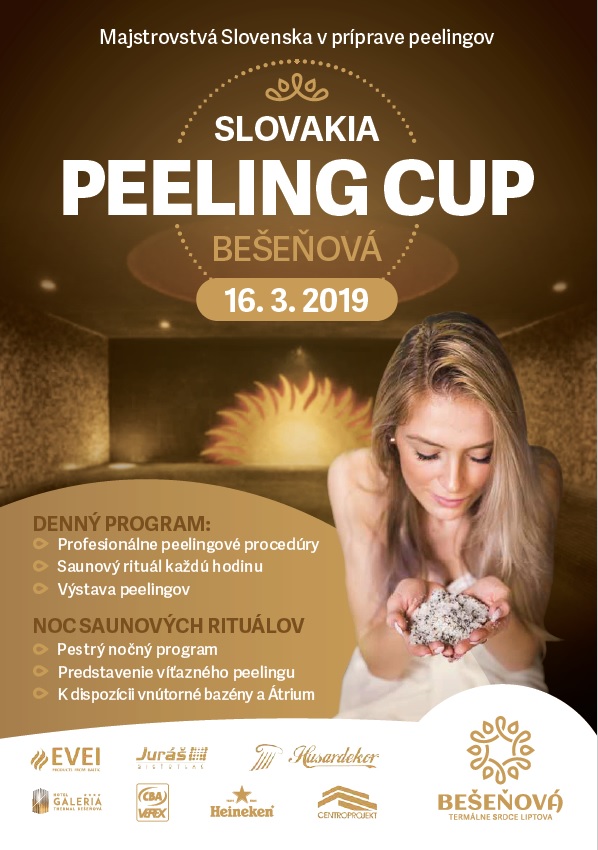 ___________________________________________________________________________
Tatry mountain resorts, a.s. (TMR) is the leader in tourism in Central and Eastern Europe; it owns and operates attractive mountain resorts, amusement parks, restaurant facilities, sports services, shops and hotels. In the Low Tatras TMR owns and operates the resort Jasná Nízke Tatry and hotels Wellness hotel Grand Jasná, Boutique Hotel Tri Studničky, Chalets Jasná De Luxe, Hotel Srdiečko, and Hotel Rotunda. TMR is also the owner of Aquapark Tatralandia, the largest Slovak aquapark with year-round operation, which besides water entertainment includes Tropical Paradise, a special tropical indoor hall with sea water, as well as Fun Park, and accommodation in bungalows and apartments of Holiday Village Tatralandia. In the High Tatras TMR owns and operates the resort Vysoké Tatry with mountain areas of Tatranská Lomnica, Starý Smokovec, and Štrbské Pleso, which TMR co-manages. In the High Tatras TMR also owns hotels Grandhotel Praha Tatranská Lomnica, Grandhotel Starý Smokovec, Hotel FIS Štrbské Pleso and Mountain hotel Hrebienok. TMR also owns a 9.5 % share in Melida, a.s., which leases and operates the resort Špindlerův Mlýn in the Czech Republic. TMR also leases and operates the ski resort Ještěd. In Poland TMR owns a 97% share in the mountain resort Szczyrkowski Ośrodek Narciarski S.A. (SON), a 75% share in a company that owns and operates Silesian Amusement Park (Śląskie Wesołe Miasteczko) and a 7.3% share in an amusement-educational project via the Polish company Korona Ziemi Sp. z.o.o. TMR also owns and leases hotels Slovakia, Kosodrevina, Liptov and Ski&Fun Záhradky a Bungalovy to third parties. By the end of 2017, more than EUR 300 mil. had been invested into development and modernisation of TMR's resorts. TMR shares are traded on three European stock exchanges – in Bratislava, Prague, and Warsaw.