Stiahnuť PDF
The ski season of 2017/2018 will offer significant innovations as for ski pass purchasing. The TMR company, which is the Central European leader in providing tourism services, is introducing new services and technology innovations every year to make holidays in the Tatras better and better and to increase the satisfaction of its clients. "Our multipurpose GOPASS system helps us know the habits of our customers, which means we can respond with great tailor-made offers. We consider it important to offer not only improvements in the form of high-quality skiing, modern cableways and restaurant facilities but also innovative ski pass purchasing methods," said the sales director of TMR Michal Beňo.
Online shopping is a big trend these days – it is preferred in the field of transport for buying travel and plane tickets, which is naturally reflected in other tourism services as well. And it is purchasing products and services in advance and online which enables operators to guarantee significantly lower prices. "Our skiers have had the possibility to buy the so called Smart Season Passes for three Slovak resorts in advance at an unbeatable price of 199 EUR for several years already. This means they can ski without limits in the High and Low Tatras for 5 months – at the price of one 6-day ski pass. This year, we have prepared a bigger change for those who come to our resorts for the first time or who could not buy a Smart Season Pass for some reason. GOPASS offers several possibilities for buying the cheapest ski passes in advance or in our resorts," explained M. Beňo.
Unbeatable ski passes purchased comfortably at home
The e-shop is still the best way of buying ski passes comfortably in one´s living room, like in previous years. People just need to register on www.gopass.sk and enjoy the membership of the loyalty club with various discounts, rewards and benefits. "The GOPASS customer programme is being used for purchasing ski passes online by 40% of our skiers nowadays, which proves that people prefer comfortable shopping via their PCs or phones anytime they want. This year, online purchasing of ski passes will be even more attractive than ever before," added M. Beňo. 
If any client buys a ski pass online via www.gopass.sk 3 and more days in advance, he/she can save 8 EUR if compared to the price of a 1-day pass purchased at regular ticket offices in Jasná (45 EUR in the case of a 6-day ski pass) and 8 EUR if compared to the price of a 1-day pass purchased at regular ticket offices in the High Tatras (43 EUR in the case of a 6-day pass).
New in winter 2017/2018: Self-service ticket machines – GOPASS Points in resorts
TMR has also thought of clients who buy their ski passes in the very last minute. From this ski season, the company will offer cheaper ski passes that can be purchased in resorts. All resorts in the High and Low Tatras will offer special and marked GOPASS Points with selfservice ticket machines from the beginning of the season. It is a similar concept like supermarkets have. There will be trained staff at the machines to help clients buy the cheapest ski passes, offer advice and inform about the best ski pass offers. 
In order to buy the cheapest ski passes in any resort, one needs to have a valid GOASS card or to register on site and pay for the pass by card (without cash). Clients who do not have GOPASS cards yet can have them issued at the self-service ticket machines once they register. 
Skiers who buy 1-day ski passes at a self-service ticket machine in Jasná can save 5 EUR if compared to regular ticket offices (30 EUR in the case of 6-day ski passes) and in the High Tatras, clients can save 5 EUR with 1-day ski passes and 30 EUR with 6-day ski passes.
Skiers will choose themselves which price they pay for their ski passes 
This year, skiers can decide which ski pass purchasing method they choose. Those who will prefer online GOPASS offers, shopping at home and in advance, can save most money. "Our clients have always the choice which ski pass purchasing method they use – whether via our e-shop 3 and more days in advance, which guarantees the cheapest ski pass prices, or they come to a marked GOPASS POINT with self-service ticket machines and buy cheaper ski passes right in the resort. If any client decides to use a regular ticket office, he/she will pay much more," concluded M. Beňo.          
 
Other details:
GOPASS PROGRAMME IN NUMBERS: Number of members: 550,000
SKIING
• 1 ski pass = 6 mountain resorts = 4 Slovak TOP destinations Tatranská Lomnica, Štrbské Pleso, Starý Smokovec, Jasná Nízke Tatry, Czech ski area of Špindlerův Mlýn and Polish resort of Szczyrk, resort of COS Szczyrk (Centralny Osŕodek Sportu) and resort of Beskid Sport Arena
• 141 kilometres of ski pistes in total, 90.5 km of ski slopes with man-made snow, 74 cable cars, chairlifts and ski lifts in 3 countries 
• 4 children ski areas called Maxiland (SK), 2 ski schools (CZ)
• Smart Season Passes, Špindlerův Mlýn + Tatras, Tatras + Szczyrk, Tatras + Szczyrk + Špindlerův Mlýn, Smart Rental, Smart Season Aqua Passes 
• hotel ski packages with discounts on ski passes 
• night skiing, sledging and snow tubing
• regional transport – ski busses and aqua ski busses
WATER PARKS AND ENTERTAINMENT
• Aquapark Tatralandia and water park of Bešeňová (Slovakia)
• amusement park of Legendia in Chorzow (Poland)
• Hurricane Factory Tatralandia – free fall simulator (Slovakia) 
• a rich event calendar  
GASTRONOMY, ACCOMMODATION AND OTHER SERVICES
• 14 Slovak hotels (www.tmrhotels.com), 234 accommodation providers and partners in SK and 75 in the CZ
• 53 restaurant facilities, après-ski, hotel gastronomy facilities and bars in 3 countries
• 16 ski equipment rentals (SK, CZ, PL)
• 32 sports shops (SK, CZ, PL)
VARIOUS POSSIBILITIES OF USE
• GOPASS e-shop, GOPASS Point, GOPASS mobile app
 
AND MUCH MORE: 
• with GOPASS – free parking (winter 2017/2018 – pilot connection of the Krupová car park to the GOPASS loyalty programme)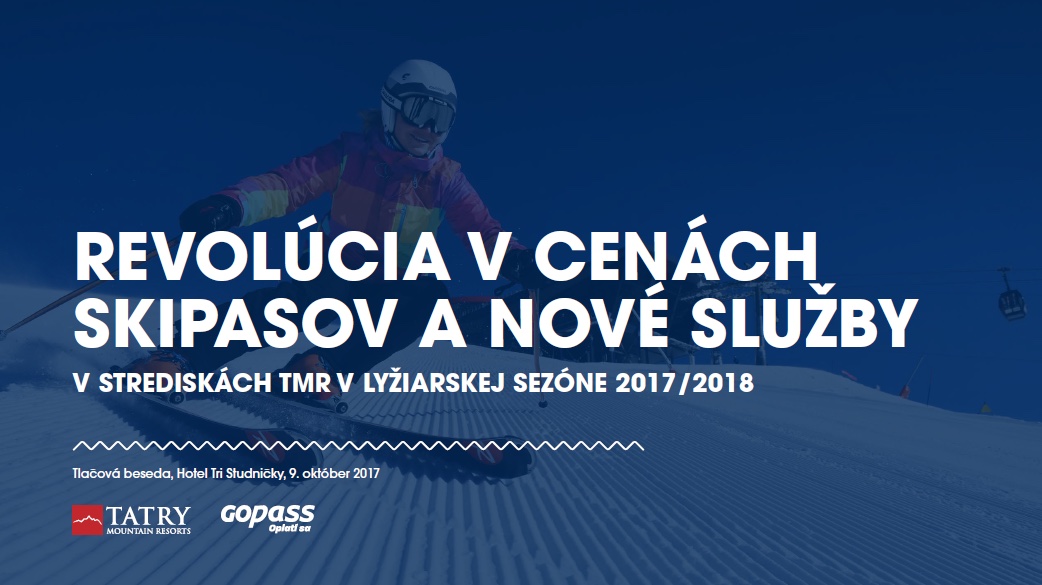 __________________________________________________________________________________
Tatry mountain resorts, a.s. (TMR) is the leader in tourism in Central and Eastern Europe; it owns and operates attractive mountain resorts, amusement parks, restaurant facilities, sports services, shops and hotels. In the Low Tatras TMR owns and operates the resort Jasná Nízke Tatry and hotels Wellness hotel Grand Jasná, Boutique Hotel Tri Studničky, Chalets Jasná De Luxe, Hotel Srdiečko, and Hotel Rotunda. TMR is also the owner of Aquapark Tatralandia, the largest Slovak aquapark with year-round operation, which besides water entertainment includes Tropical Paradise, a special tropical indoor hall with sea water, as well as Fun Park, and accommodation in bungalows and apartments of Holiday Village Tatralandia. In the High Tatras TMR owns and operates the resort Vysoké Tatry with mountain areas of Tatranská Lomnica, Starý Smokovec, and Štrbské Pleso, which TMR co-manages. In the High Tatras TMR also owns hotels Grandhotel Praha Tatranská Lomnica, Grandhotel Starý Smokovec, Hotel FIS Štrbské Pleso and Mountain hotel Hrebienok. TMR also owns a 9.5 % share in Melida, a.s., which leases and operates the resort Špindlerův Mlýn in the Czech Republic. In Poland TMR owns a 97% share in the mountain resort Szczyrkowski Ośrodek Narciarski S.A. (SON), a 75% share in a company that owns and operates Silesian Amusement Park (Śląskie Wesołe Miasteczko) and a 7.3% share in an amusement-educational project via the Polish company Korona Ziemi Sp. z.o.o. TMR also owns and leases hotels Slovakia, Kosodrevina, Liptov and Ski&Fun Záhradky a Bungalovy to third parties. By the end of 2016 EUR 230 mil. had been invested into development and modernisation of TMR's resorts. TMR shares are traded on three European stock exchanges – in Bratislava, Prague, and Warsaw.