Stiahnuť PDF
Snowmakers started to operate in Štrbské Pleso, in Tatranská Lomnica and on Mt. Chopok on Sunday evening. The ski resort of Jasná launches the winter season on Saturday 3rd December on the blue pistes of Turistická (no. 5), Lúčky (no. 14) and Biela Púť (no. 13) on the northern side, and on the red pistes of Slnečná (no. 31) and Tréningová (no. 31a) on the southern side plus respective cable cars and chairlifts. Snowmaking and opening of pistes depend on the weather. So far, 7 km of slopes from the altitude of about 1,480 metres down are expected to be opened on Mt. Chopok on Saturday. If the snow conditions are good, the pistes of Predné Dereše (no. 33a), Turistická (no. 5a), Májová Rovná hoľa – Priehyba (no. 2a) and Májová Priehyba – Jasná (no. 2b) should be opened as well. Please view a map HERE. Updated information about the percentage of man-made snow on both sides of Mt. Chopok and opening of ski pistes is published on the resort website www.jasna.sk every day.
The winter season in Jasná will be opened on 3rd December with a big sports festival on the slope and a great dance party in the Happy End music club – Winter Music Opening. The day programme will offer a traditional Xdrive race with virtual games in an Xbox arena and those who come without skis can try a new attraction called Skki trikke – a special kind of tricycle (three skis connected by a steering wheel with a turning joint). When standing on a Skki trikke, one needs to shift weight like when skiing to control the speed and make turns. Skiers do not need any bindings, they can wear ordinary shoes. What´s more, skki trikke does not overload the knees. After 09:00pm, fans of entertainment can enjoy an adventurous cruise around dancing destinations in the style of an ocean voyage and visit Paris, Rio de Janeiro, Africa, New York and London. Top-class DJs – Publik DJ, DJ EKG, Milan Lieskovský, DJ Easte Luke and charismatic Latino singer Eusebio will guarantee an unforgettable show with dancing performances during the whole cruise up to the destination station of Jasná. Please read more about the day and evening programme HERE.
Skiers have been enjoying the first skiing pleasure on the slope of Interski in Štrbské Pleso from 26th November, which offers 40 cm of snow and very good skiing conditions these days. We hope there will be a lot of snowfall and mountain resorts will manage to produce enough man-made snow and open their ski slopes soon. Regular autumn maintenance is in progress in the mountain resort of Tatranská Lomnica until 9th December. The cable cars and chairlifts begin to operate on Saturday 10th December. After recent snowfall, the 2.5 km-long sledging track between Hrebienok and Starý Smokovec could be opened and day sledging is available from today. If the snow conditions do not change considerably in near future, there will be night sledging every Tuesday, Friday and Saturday between 07:00pm and 09:00pm as well. Please read more HERE.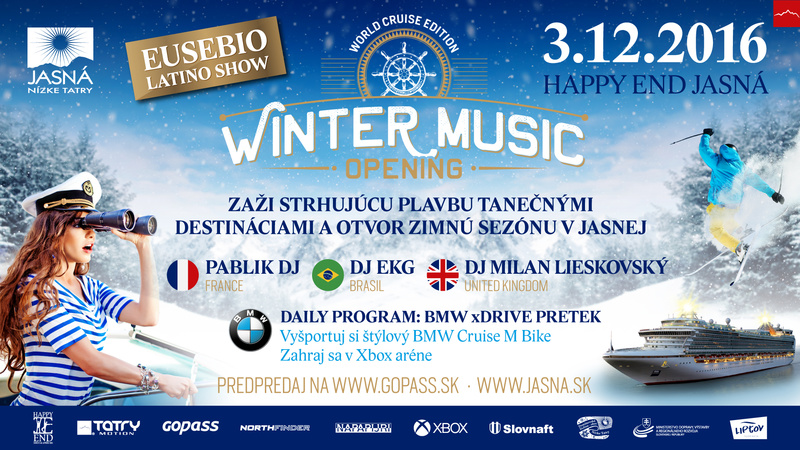 ________________________________________________________________________________
Tatry mountain resorts, a.s. (TMR) is the leader in tourism in Central and Eastern Europe; it owns and operates attractive mountain resorts, amusement parks, restaurant facilities, sports services, shops and hotels. In the Low Tatras TMR owns and operates the resort Jasná Nízke Tatry and hotels Wellness hotel Grand Jasná, Boutique Hotel Tri Studničky, Chalets Jasná De Luxe, Hotel Srdiečko, and Hotel Rotunda. TMR is also the owner of Aquapark Tatralandia, the largest Slovak aquapark with year-round operation, which besides water entertainment includes Tropical Paradise, a special tropical indoor hall with sea water, as well as Fun Park, and accommodation in bungalows and apartments of Holiday Village Tatralandia. In the High Tatras TMR owns and operates the resort Vysoké Tatry with mountain areas of Tatranská Lomnica, Starý Smokovec, and Štrbské Pleso, which TMR co-manages. In the High Tatras TMR also owns hotels Grandhotel Praha Tatranská Lomnica, Grandhotel Starý Smokovec, Hotel FIS Štrbské Pleso and Mountain hotel Hrebienok. TMR also owns a 9.5 % share in Melida, a.s., which leases and operates the resort Špindlerův Mlýn in the Czech Republic. In Poland TMR owns a 97% share in the mountain resort Szczyrkowski Ośrodek Narciarski S.A. (SON), a 75% share in a company that owns and operates Silesian Amusement Park (Śląskie Wesołe Miasteczko) and a 7.3% share in an amusement-educational project via the Polish company Korona Ziemi Sp. z.o.o. TMR also owns and leases hotels Slovakia, Kosodrevina, Liptov and Ski&Fun Záhradky a Bungalovy to third parties. By the end of 2015 EUR 206 mil. had been invested into development and