Stiahnuť PDF
"Since the moment when I and my husband started organising this, we have been doing our best to make the time the children spend in the Tatras not only interesting as for the music but also full of unforgettable moments that they will remember for long. In the past, we used to hold our concerts in Belianska jaskyňa (cave) and in the area of Hrebienok but this year, it will be in Skalnaté Pleso again, on 14th July at 12:00," said Tereza Novotná. 
She explained that she had always been choosing music pieces that are attractive for the kids. Some of them don´t play in orchestras so it is a big change for them and easier to rehearse something if they are in a group. "Older and more experienced members help the younger ones. Music doesn´t have any language barriers, there is no prestige in our orchestra. Only love for music. Besides compositions by Mozart, Bach, Haydn, Vivaldi and Shostakovich, I have included pieces of modern authors too – Piazzola and Cohen. With my orchestra in Poprad, I am testing which compositions children prefer and like playing. Then we rehearse them also with the international group. This year, there will be also teachers in Skalnaté Pleso who want to see how I work with the kids. The concerts in the Tatras are something special not only for all of us but also for our audience. Nature is the most beautiful music hall and pieces of such great artists like Bach, Vivaldi and Mozart deserve to be played in nature," concluded Mrs. Novotná. 
Tereza Novotná was playing the first violin in the State Theatre and State Philharmonic Orchestra in Košice for 15 years. Besides Slovakia, she has been performing and making violin courses in Mexico and Italy and has travelled all around the world with various music ensembles. In order to organise violin meetings of young musicians from various countries in the Tatras, she founded a Civic Association called Treble Clef along with her husband. The concert of the International children´s violin orchestra on the restaurant terrace in Skalnaté Pleso is free of charge.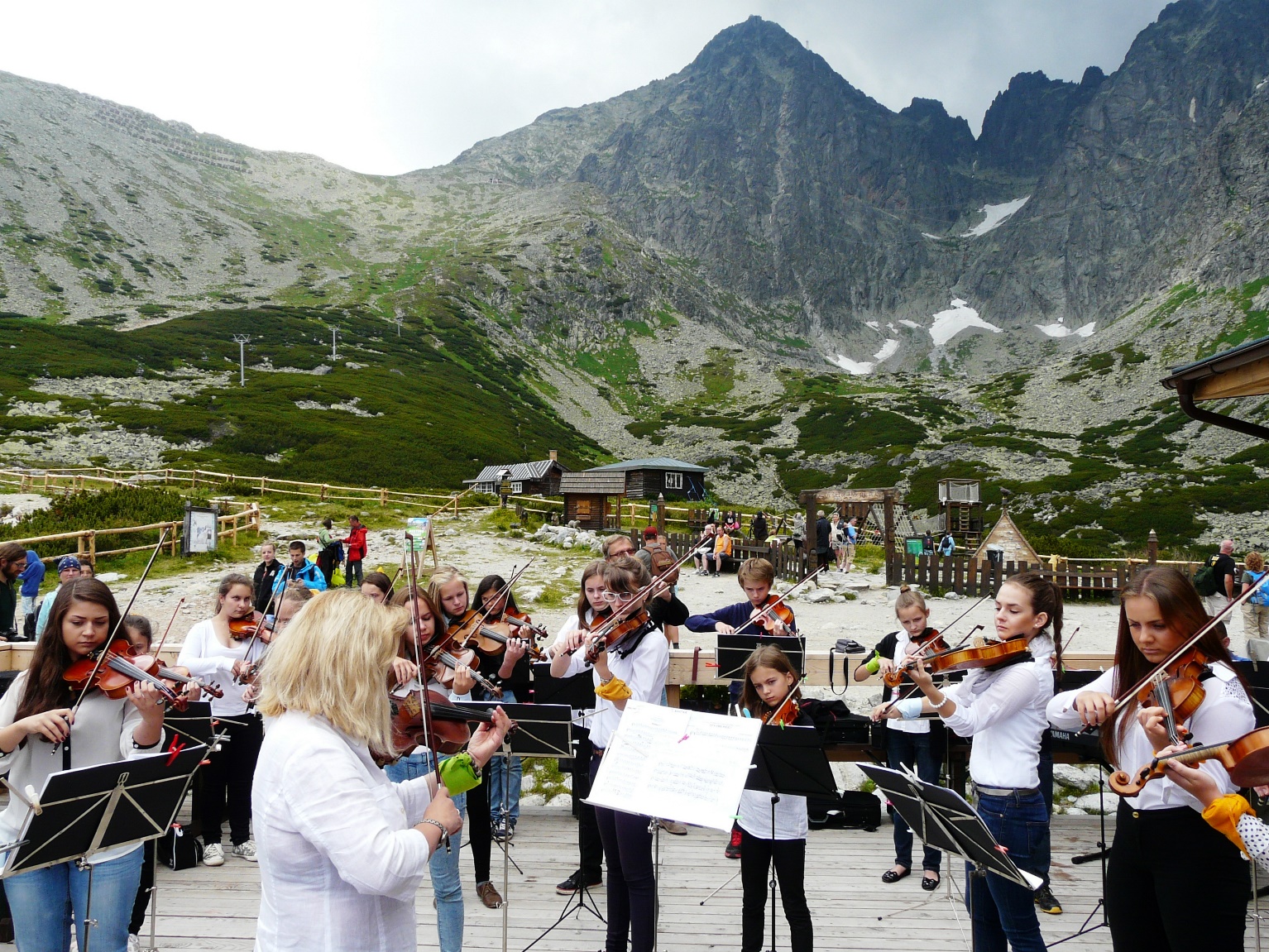 __________________________________________________________________________________
Tatry mountain resorts, a.s. (TMR) is the leader in tourism in Central and Eastern Europe; it owns and operates attractive mountain resorts, amusement parks, restaurant facilities, sports services, shops and hotels. In the Low Tatras TMR owns and operates the resort Jasná Nízke Tatry and hotels Wellness hotel Grand Jasná, Boutique Hotel Tri Studničky, Chalets Jasná De Luxe, Hotel Srdiečko, and Hotel Rotunda. TMR is also the owner of Aquapark Tatralandia, the largest Slovak aquapark with year-round operation, which besides water entertainment includes Tropical Paradise, a special tropical indoor hall with sea water, as well as Fun Park, and accommodation in bungalows and apartments of Holiday Village Tatralandia. In the High Tatras TMR owns and operates the resort Vysoké Tatry with mountain areas of Tatranská Lomnica, Starý Smokovec, and Štrbské Pleso, which TMR co-manages. In the High Tatras TMR also owns hotels Grandhotel Praha Tatranská Lomnica, Grandhotel Starý Smokovec, Hotel FIS Štrbské Pleso and Mountain hotel Hrebienok. TMR also owns a 9.5 % share in Melida, a.s., which leases and operates the resort Špindlerův Mlýn in the Czech Republic. TMR also leases and operates the ski resort Ještěd. In Poland TMR owns a 97% share in the mountain resort Szczyrkowski Ośrodek Narciarski S.A. (SON), a 75% share in a company that owns and operates Silesian Amusement Park (Śląskie Wesołe Miasteczko) and a 7.3% share in an amusementeducational project via the Polish company Korona Ziemi Sp. z.o.o. TMR also owns and leases hotels Slovakia, Kosodrevina, Liptov and Ski&Fun Záhradky a Bungalovy to third parties. By the end of 2017, more than EUR 300 mil. had been invested into development and modernisation of TMR's resorts. TMR shares are traded on three European stock exchanges – in Bratislava, Prague, and Warsaw.