Stiahnuť PDF
The hall has an ideal location for conference tourism in the region of Liptov, cultural or dramatic performances and concerts. Specialised events or trainings organised in the magical environment of the Low Tatras are much different from those organised in cities. The capacity of the conference room, which cost 1.2 million EUR, offers big comfort. It is 4.2 m high, has a size of 26x12m and can be divided in 4 smaller parts, which makes it perfect even for larger events. "Return to nature" is the main architectonic concept with wood as the basic material used. The hall is 80% glass-walled, which offers a unique panoramic view with a harmonising and inspiring atmosphere. The room has a heated atrium with access to the roof, where a coffee break can be served or deckchairs even a mobile bar can be placed. The hall offers five projection screens, five data projectors, ceiling speakers with a remote control, streaming cameras, LED lights; and can be dimmed or darkened.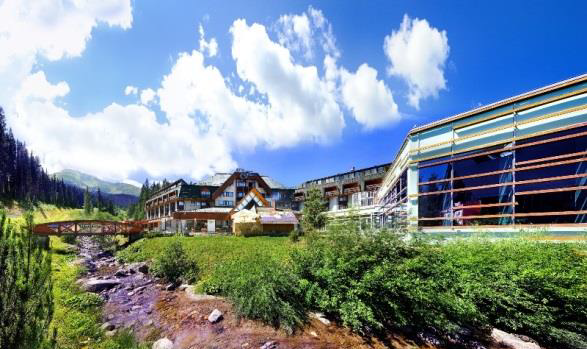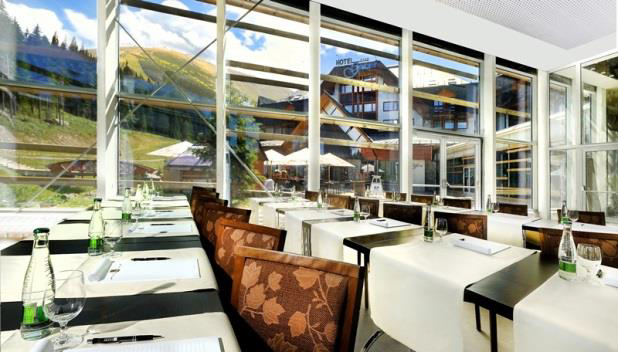 Even the most demanding bosses or managers will appreciate the generous space with a variable seating arrangement and a professional team experienced in organising large events. A perfect conference locality combined with a modern conference design will meet all needs and requirements. "Jasná has an ideal location in the centre of Slovakia and there was no conference centre of this size, we have filled a hole in the market. Corporate events are usually held in boring and dark rooms in cities. This stereotype is overcome by our new conference centre, which offers a pleasant alternative with a lot of daylight, embraced by nature. However, we have to warn everybody. Only the best speakers will be able to resist beautiful views of Mt. Chopok. The less brave ones can have the room dimmed or darkened," said the Cluster General Manager of Tatry Mountain Resorts hotels, Peter Bednarčík.
The first 20 clients who make a reservation until 15th September 2013 can test the new spaces with top technology and multimedia equipment for free. For more information visit: event@tmr.sk or call: 0911 698 801.
Congresses and conferences will be much more attractive now. Besides a beautiful environment of the Low Tatras, the Wellness Hotel Grand**** Jasná offers first-class services, many rooms and a high culinary level. For moments of relaxation or fun, there is a large Wellness&Spa or the nearby Happy End music club with a capacity of more than one thousand people. For more information visit: http://www.grandjasna.sk/.
Tatry mountain resorts, a.s. is a top subject in the field of tourism in Central and Easter Europe, which itself or via subsidiaries owns and operates attractive ski resorts and hotels in the area of the Low and High Tatras. These include the resort Jasná Low Tatras and the following hotels: Wellness hotel Grand Jasná, Tri studničky and Chalets Záhradky De Luxe. In the High Tatras, TMR owns and operates resorts Tatranská Lomnica, Starý Smokovec and the following hotels: Grandhotel Praha Tatranská Lomnica, Grandhotel Starý Smokovec, Hotel Slovakia and hotel FIS Štrbské Pleso. TMR also co‐operates the resort Štrbské Pleso and since the winter season 2012/2013 it has been leasing the mountain resort Špindlerův Mlýn in the Czech Republic in cooperation with SMMR, a.s.. TMR owns Tatralandia, the largest Slovak aquapark with all-year operation, which offers a lot of water and other entertainment in the Fun Park relax or in a special tropical hall with sea water. It also offers accommodation in bungalows and suites of the Holiday Village Tatralandia. TMR also owns and rents hotels Kosodrevina, Liptov and Ski&Fun Záhradky and Bungalows. More than 144 million Euros were invested by the end of 2012 in the already mentioned resorts, which helps increase the standard and visitor turnout in the Tatras. The TMR shares have been traded on three European stock exchanges – in Bratislava, Prague and Warsaw since 2012.