The ski season in Jasná and Štrbské Pleso is in full swing, Tatranská Lomnica is opening pistes as well
Stiahnuť PDF
50 cm of snow and very good conditions are offered in Štrbské Pleso, which plans to open another ski piste on Saturday – Esíčko. On 10th December, Tatranská Lomnica is opening the first slopes: Štart Západ, Štart Východ, Čučoriedky Západ and Čučoriedky Východ. The first skiing day in Tatranská Lomnica will be launched by tennis players Miloslav Mečíř, Andrej Martin, Norbert Gombos, Lukáš Lacko, Igor Zelenay, Ján Krošlák, Karol Beck, Jiří Novák, Ctislav Doseděl, Lukáš Dlouhý and Braňo Stankovič.  
Cable cars and chairlifts in Tatranská Lomnica are beginning to operate in their winter modus this weekend, specifically on the following sections: Tatranská Lomnica – Štart, Štart – Skalnaté Pleso and Skalnaté Pleso – Mt. Lomnický štít. For more information about opened cableways and ski pistes, please visit HIGH TATRAS LIVE. This winter season will be all about the 75th anniversary of the suspension cable car that operates to Mt. Lomnický štít.
The terrain of the highest located ski piste in Lomnické sedlo (saddle) has been monitored by grooming machines this week. Juraj Jancík, the head of the chairlift management, says there is 60 cm of snow in the saddle now. "The basic layer on the piste is very good. Lomnické sedlo needs natural snow to be opened. The weather forecast about snowing next week looks promising, we expect to get the snow amount that we need. We are doing our best so that skiers could enjoy the piste in Lomnické sedlo already during Christmas," said Jancík. 
The resort of Tatranská Lomnica is also preparing the Audi Ski Arena in the eastern section of the Čučoriedky piste, which should be opened soon.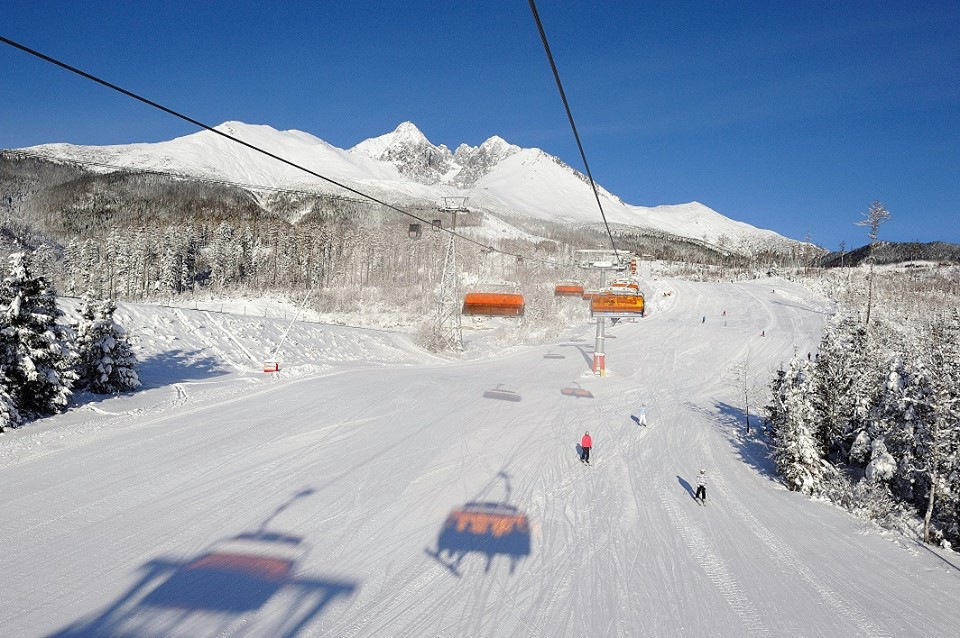 __________________________________________________________________________________
Tatry mountain resorts, a.s. (TMR) is the leader in tourism in Central and Eastern Europe; it owns and operates attractive mountain resorts, amusement parks, restaurant facilities, sports services, shops and hotels. In the Low Tatras TMR owns and operates the resort Jasná Nízke Tatry and hotels Wellness hotel Grand Jasná, Boutique Hotel Tri Studničky, Chalets Jasná De Luxe, Hotel Srdiečko, and Hotel Rotunda. TMR is also the owner of Aquapark Tatralandia, the largest Slovak aquapark with year-round operation, which besides water entertainment includes Tropical Paradise, a special tropical indoor hall with sea water, as well as Fun Park, and accommodation in bungalows and apartments of Holiday Village Tatralandia. In the High Tatras TMR owns and operates the resort Vysoké Tatry with mountain areas of Tatranská Lomnica, Starý Smokovec, and Štrbské Pleso, which TMR co-manages. In the High Tatras TMR also owns hotels Grandhotel Praha Tatranská Lomnica, Grandhotel Starý Smokovec, Hotel FIS Štrbské Pleso and Mountain hotel Hrebienok. TMR also owns a 9.5 % share in Melida, a.s., which leases and operates the resort Špindlerův Mlýn in the Czech Republic. In Poland TMR owns a 97% share in the mountain resort Szczyrkowski Ośrodek Narciarski S.A. (SON), a 75% share in a company that owns and operates Silesian Amusement Park (Śląskie Wesołe Miasteczko) and a 7.3% share in an amusement-educational project via the Polish company Korona Ziemi Sp. z.o.o. TMR also owns and leases hotels Slovakia, Kosodrevina, Liptov and Ski&Fun Záhradky a Bungalovy to third parties. By the end of 2015 EUR 206 mil. had been invested into development and modernisation of TMR's resorts. TMR shares are traded on three European stock exchanges – in Bratislava, Prague, and Warsaw.