Stiahnuť PDF
Tatralandia promises an eventful summer again and the grandiose season opening is going to prove it on the last Saturday of June. "All competitive spirits can enjoy an official race on our newest water slides: 4 Family and Delphin. Time will be the most important criterion for the professional jury but the style, crazy tricks and background acoustic effects can play a significant role as for the overall performance too," said Ivana Gežíková from Tatralandia.
The 139-metre-long Delphin slide with big and safe 4-person rafts offers adventurous downhill from a 17-metre-high tower and genuine free-fall experiences on a half-pipe.
The 4Family slide guarantees rather peaceful amusement for families with children from 4 years in giant rafts on a 182-metre-long track.
The water slide competition is not the only racing event of the day at Tatralandia, though. "The one-of-a-kind indoor Surf Cup is going to be held on the Surf Waves of Tatralandia in the afternoon but that´s not all. All Saturday 29th June will be full of action, including a great music show with famous hits performed by saxophonist Saxana and DJ Shype and young actors of the Oteckovia (Fathers) TV series who promise a lot of fun too –Laura Gavaldová alias Julka, Oliver Oswald alias Luky and Tobias Král alias Max. The programme will culminate with a great concert of Sima," added Ms. Gežíková. 
Tatralandia is going to guarantee summer amusement on 28 water slides, in 14 sea, thermal and clear water pools and at all park attractions from 29th June. The summer offer includes regular activities and various concerts of well-known singers and bands such as including Heľenine oči (13.7.), King Shaolin (10.8.), Miro Jaroš (27.7.) and others.
1-day water park tickets are available at the best prices via GOPASS. The best product for clients who plan to enjoy water parks more often is the Season Aqua Pass, which is valid until the end of October and sold only at €119 at the moment. It can be used every day in Tatralandia and another popular water park in the region of Liptov – Bešeňová, where the summer season was launched with an exclusive international fashion show and Slovak TOP model Andrea Verešová on 15th June.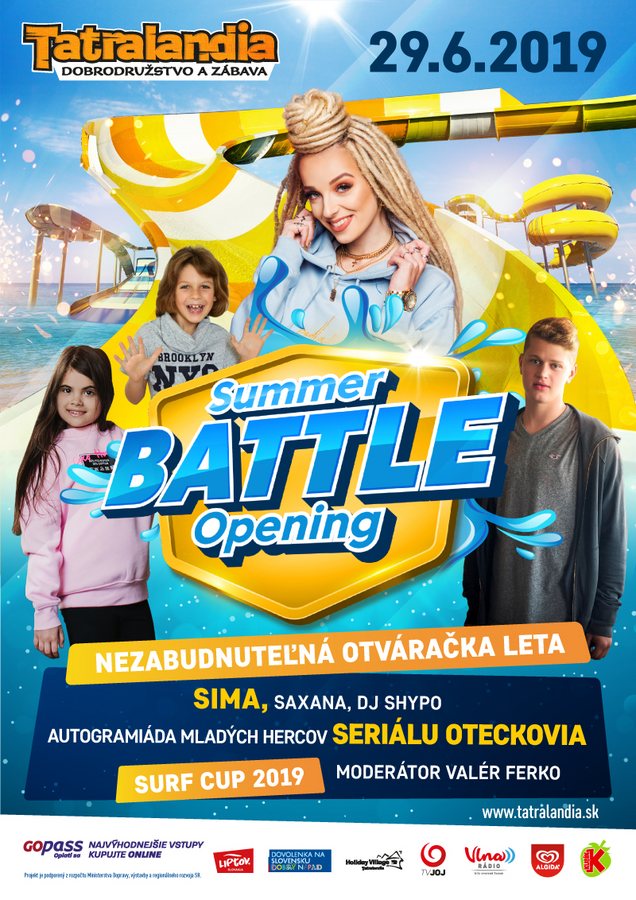 ___________________________________________________________________
Tatry mountain resorts, a.s. (TMR) is the leader in tourism in Central and Eastern Europe; it owns and operates attractive mountain resorts, amusement parks, restaurant facilities, sports services, shops and hotels. In the Low Tatras TMR owns and operates the resort Jasná Nízke Tatry and hotels Wellness hotel Grand Jasná, Boutique Hotel Tri Studničky, Chalets Jasná De Luxe, Hotel Srdiečko, Hotel Pošta and Hotel Rotunda. TMR is also the owner of Aquapark Tatralandia, the largest Slovak aquapark with year-round operation, which besides water entertainment includes Tropical Paradise, a special tropical indoor hall with sea water, as well as Fun Park, and accommodation in bungalows and suites of Holiday Village Tatralandia. In the High Tatras TMR owns and operates the resort Vysoké Tatry with mountain areas of Tatranská Lomnica, Starý Smokovec, and Štrbské Pleso, which TMR co-manages. In the High Tatras TMR also owns hotels Grandhotel Praha Tatranská Lomnica, Grandhotel Starý Smokovec, Hotel FIS Štrbské Pleso and Mountain hostel Hrebienok. TMR also owns a 9.5 % share in Melida, a.s., which leases and operates the resort Špindlerův Mlýn in the Czech Republic. TMR also leases and operates the ski resort Ještěd, Golf & Ski Resort Ostravice and leases Kaskáda Golf Rezort Brno, where it runs a hotel, a restaurant and a conference centre. In Poland TMR owns a 97% share in the mountain resort Szczyrkowski Ośrodek Narciarski S.A. (SON), a 75% share in a company that owns and operates Silesian Amusement Park (Śląskie Wesołe Miasteczko) and a 7.3% share in an amusement-educational project via the Polish company Korona Ziemi Sp. z.o.o. TMR also owns and leases hotels Slovakia, Kosodrevina, Liptov and Ski&Fun Záhradky a Bungalovy to third parties. By the end of 2018, more than EUR 350 mil. had been invested into development and modernisation of TMR's resorts. TMR shares are traded on three European stock exchanges – in Bratislava, Prague, and Warsaw.