The unique gastronomy festival called Culinary Week will offer original tastes of the Nordic countries
Stiahnuť PDF
This will be the fourth time that fans of high-quality gastronomy meet in the mountains, at the altitude of 1,670 metres, in the original and stylish Von Roll Luková restaurant to please their taste buds during the so called Culinary Week. This year, the restaurant has invited chef Pavol Pavlík and his talented team to prepare a special menu inspired by the Nordic cuisine. "In the first place, we want to introduce Le terroir with a concept and style whose philosophy is decisive and most important to us currently. Our guests will taste several of our tried and tested recipes. We plan to prepare meals that are inspired by nature and everything will be emphasised by this beautiful country and location where the event takes place. The Low Tatras offer a great possibility for finding a new inspiration and combining the mountains with a gourmet dinner," said chef Pavol Pavlík.  
The menu includes mouflon, veal top blade steak, monkfish, beef flank steak, smoked carrot cake and much more. "The exceptional experience will be intensified by the flawless harmony of meals, exclusive wines served with every course and piano background music. Except the unique dinner, there is also a demonstration of glassware blowing prepared for our guests. A glass maker will introduce his art by using his own glass furnace and each guest will get a present as a keepsake," added Lukáš Egreši, the chief operating officer of bars and restaurants in the Low Tatras.   
Before tasting the very first piece of meal, guests will begin their journey in the locality of Jasná, Biela Púť, from where a special snow groomer will take them to the Von Roll restaurant. For more details about the Culinary Week, please click HERE. The a la carte Von Roll restaurant has a unique interior which attracts the attention of all lovers of technical monuments. Inside, there is the original cableway system combined with elements such as wood and stone. During the winter season, the restaurant hosts the traditional and popular Tatra Dinner of Emotions every Monday, Wednesday and Saturday.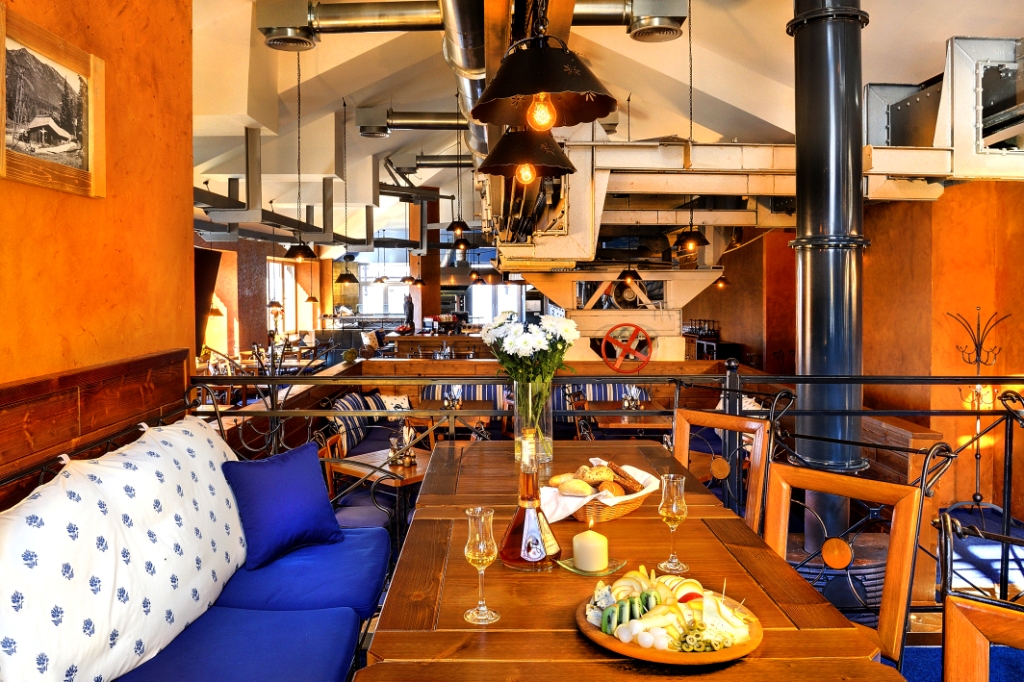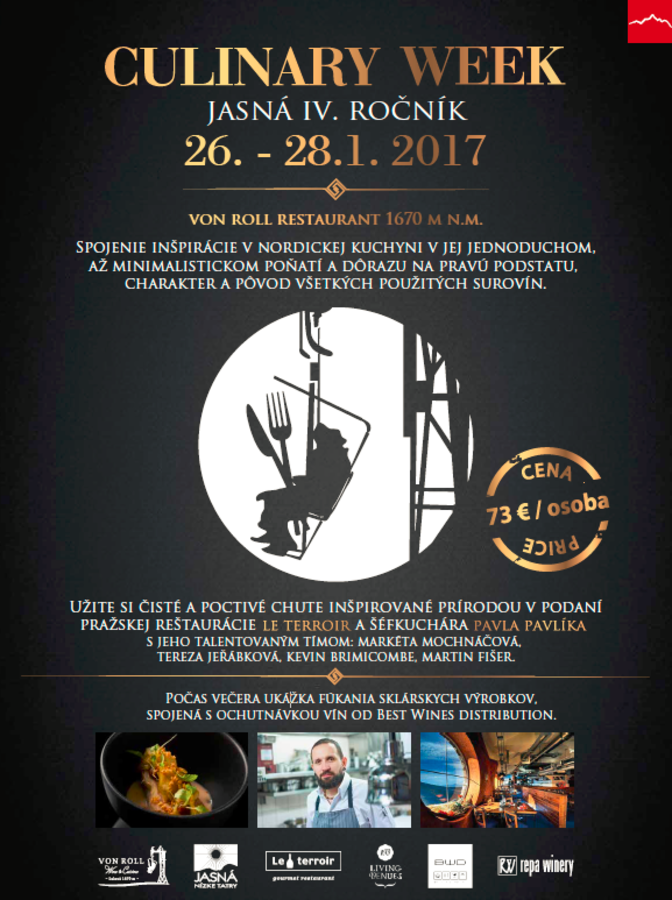 __________________________________________________________________________________
Tatry mountain resorts, a.s. (TMR) is the leader in tourism in Central and Eastern Europe; it owns and operates attractive mountain resorts, amusement parks, restaurant facilities, sports services, shops and hotels. In the Low Tatras TMR owns and operates the resort Jasná Nízke Tatry and hotels Wellness hotel Grand Jasná, Boutique Hotel Tri Studničky, Chalets Jasná De Luxe, Hotel Srdiečko, and Hotel Rotunda. TMR is also the owner of Aquapark Tatralandia, the largest Slovak aquapark with year-round operation, which besides water entertainment includes Tropical Paradise, a special tropical indoor hall with sea water, as well as Fun Park, and accommodation in bungalows and apartments of Holiday Village Tatralandia. In the High Tatras TMR owns and operates the resort Vysoké Tatry with mountain areas of Tatranská Lomnica, Starý Smokovec, and Štrbské Pleso, which TMR co-manages. In the High Tatras TMR also owns hotels Grandhotel Praha Tatranská Lomnica, Grandhotel Starý Smokovec, Hotel FIS Štrbské Pleso and Mountain hotel Hrebienok. TMR also owns a 9.5 % share in Melida, a.s., which leases and operates the resort Špindlerův Mlýn in the Czech Republic. In Poland TMR owns a 97% share in the mountain resort Szczyrkowski Ośrodek Narciarski S.A. (SON), a 75% share in a company that owns and operates Silesian Amusement Park (Śląskie Wesołe Miasteczko) and a 7.3% share in an amusement-educational project via the Polish company Korona Ziemi Sp. z.o.o. TMR also owns and leases hotels Slovakia, Kosodrevina, Liptov and Ski&Fun Záhradky a Bungalovy to third parties. By the end of 2015 EUR 206 mil. had been invested into development and modernisation of TMR's resorts. TMR shares are traded on three European stock exchanges – in Bratislava, Prague, and Warsaw.