TMR is launching the "What kind of Tatras do we want" initiative to support a wider debate about further development of the Tatras
Stiahnuť PDF
"Our company has made business in the Tatras for several years and we plan to stay here for a long period. This means we need to know what the wide public thinks about the direction of further development of the Tatras. When having discussions with various institutions, local inhabitants or entrepreneurs about each of our projects, we usually hear opinions what we do not want to have in the Tatras. However, positive visions of what development we would wish for the Tatras are very rare. This initiative should help us find a kind of intersection where we, businessmen see our opportunities and what the public wants to have in the Tatras – while the public does not mean only local people but also visitors and all those who like the Tatras and visit them," says the general manager of TMR Bohuš Hlavatý about the initiative. 
The online platform www.AkeTatrychceme.sk aims to introduce interesting topics and materials about the Tatras and also inspirations from all around the world that should help create a common vision for the Tatras. TMR wants to let other entities and people who do their activities in the Tatras and wish for a reasonable development present their ideas as well. The website is divided in five main sections – The wealth of the Tatras, Transport and infrastructure, Sport and relaxation, Gastronomy and accommodation, People – because it is the growth of human capital and creating of job opportunities that are crucial as for the development of any region. The website also offers space for the wide public to present their opinions about the main problems and development plans in the region of the Tatras by means of a survey. 
"Our vision is to make beautiful places and locations in the Tatras accessible also for less experienced tourists, for example for children because this is the only way how they get a chance to discover the mountains and build a relationship with them. We also wish that all visitors to the Tatras find top-quality and professional services and have enough possibilities to spend time here all year round, in all weathers. At the same time we are well aware of the fact that the success of our business is closely connected with the natural environment of the Tatras. That is why we want to help make the Tatras nicer and cleaner with our activities, not vice versa," concluded Bohuš Hlavatý on behalf of TMR.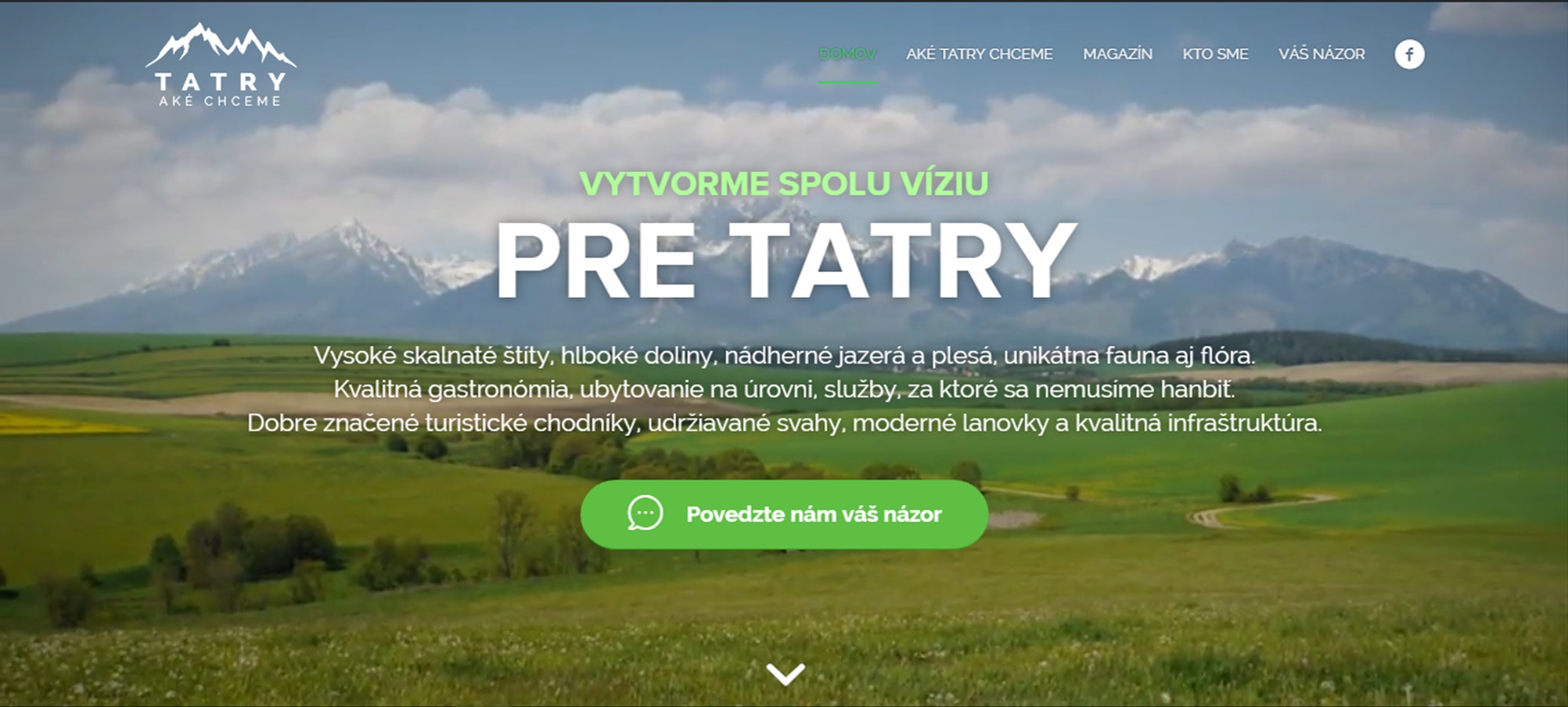 __________________________________________________________________________________
Tatry mountain resorts, a.s. (TMR) is the leader in tourism in Central and Eastern Europe; it owns and operates attractive mountain resorts, amusement parks, restaurant facilities, sports services, shops and hotels. In the Low Tatras TMR owns and operates the resort Jasná Nízke Tatry and hotels Wellness hotel Grand Jasná, Boutique Hotel Tri Studničky, Chalets Jasná De Luxe, Hotel Srdiečko, and Hotel Rotunda. TMR is also the owner of Aquapark Tatralandia, the largest Slovak aquapark with year-round operation, which besides water entertainment includes Tropical Paradise, a special tropical indoor hall with sea water, as well as Fun Park, and accommodation in bungalows and apartments of Holiday Village Tatralandia. In the High Tatras TMR owns and operates the resort Vysoké Tatry with mountain areas of Tatranská Lomnica, Starý Smokovec, and Štrbské Pleso, which TMR co-manages. In the High Tatras TMR also owns hotels Grandhotel Praha Tatranská Lomnica, Grandhotel Starý Smokovec, Hotel FIS Štrbské Pleso and Mountain hotel Hrebienok. TMR also owns a 9.5 % share in Melida, a.s., which leases and operates the resort Špindlerův Mlýn in the Czech Republic. In Poland TMR owns a 97% share in the mountain resort Szczyrkowski Ośrodek Narciarski S.A. (SON), a 75% share in a company that owns and operates Silesian Amusement Park (Śląskie Wesołe Miasteczko) and a 7.% share in an amusement-educational project via the Polish company Korona Ziemi Sp. z.o.o. TMR also owns and leases hotels Slovakia, Kosodrevina, Liptov and Ski&Fun Záhradky a Bungalovy to third parties. By the end of 2015 EUR 206 mil. had been invested into development and modernisation of TMRs resorts. TMR shares are traded on three European stock exchanges – in Bratislava, Prague, and Warsaw.