Stiahnuť PDF
"After each winter season when snow disappears from the pistes, we collect rubbish and rocks along with volunteers," says Martin Kupčo from the resort of Jasná. This year, there will be about 200 volunteers with gloves and buckets on the slopes of Mt. Chopok who should clean the areas of Biela Púť, Otupné, Luková and Kosodrevina. The same happens in September again. "With help of volunteers, we collect rubbish and rocks on pistes so that freshly mown and partly dry hay can be piled up there during the summer. Being the operator of the resort, we regularly grass selected areas on Mt. Chopok with deep root seeds, which helps protect the slopes from erosion mainly when it rains heavily. We also cut the grass and revitalise the areas. These activities cost over 100,000 EUR every year," adds Mr. Kupčo. 
This year, volunteers will be helping plant young trees as well. The process will be coordinated by the land association of Ploštín and the volunteers will be properly trained. "The trees are certified and have been delivered to us based on specific criteria by the Forests of the Slovak Republic, the plant of Semenoles in Liptovský Hrádok. The locality under the Liptov hotel has been chosen considering the local wind calamity," said Ivan Uličný of the Ploštín association.
Volunteers who have registered for the Green Chopok event online and employees of the TMR company will meet on the northern side of the mountain in front of the Happy End club and on the southern side at the Srdiečko hotel on Friday between 8:00am and 9:00am. Once groups are formed and instructions are given by the organiser, all helpers will move to the areas of Biela Púť, Otupné, Luková and Kosodrevina. 
The slope cleaning and tree planting activities are scheduled for the period from 9:00am to 12:00noon. After that, the volunteers can enjoy lunch at Happy End and the Kosodrevina chalet like they could in previous years and each of them will be rewarded for their voluntary work with a 1-day ski pass to Jasná.  
During the most recent Green Chopok event, which was held last year in September, the project was joined by 300 volunteers. They planted 2,000 trees and collected 5 tonnes of rocks in total. 1 hectare of land was grassed over and another hectare was covered with hay. The volunteers cleaned 3 hectares of paths and access roads (around the tarn of Vrbické pleso and in the area of Otupné). There were also 67 pupils from primary schools of Banská Bystrica and Šurany. People from all around Slovakia and even the Czech Republic came to Jasná to help.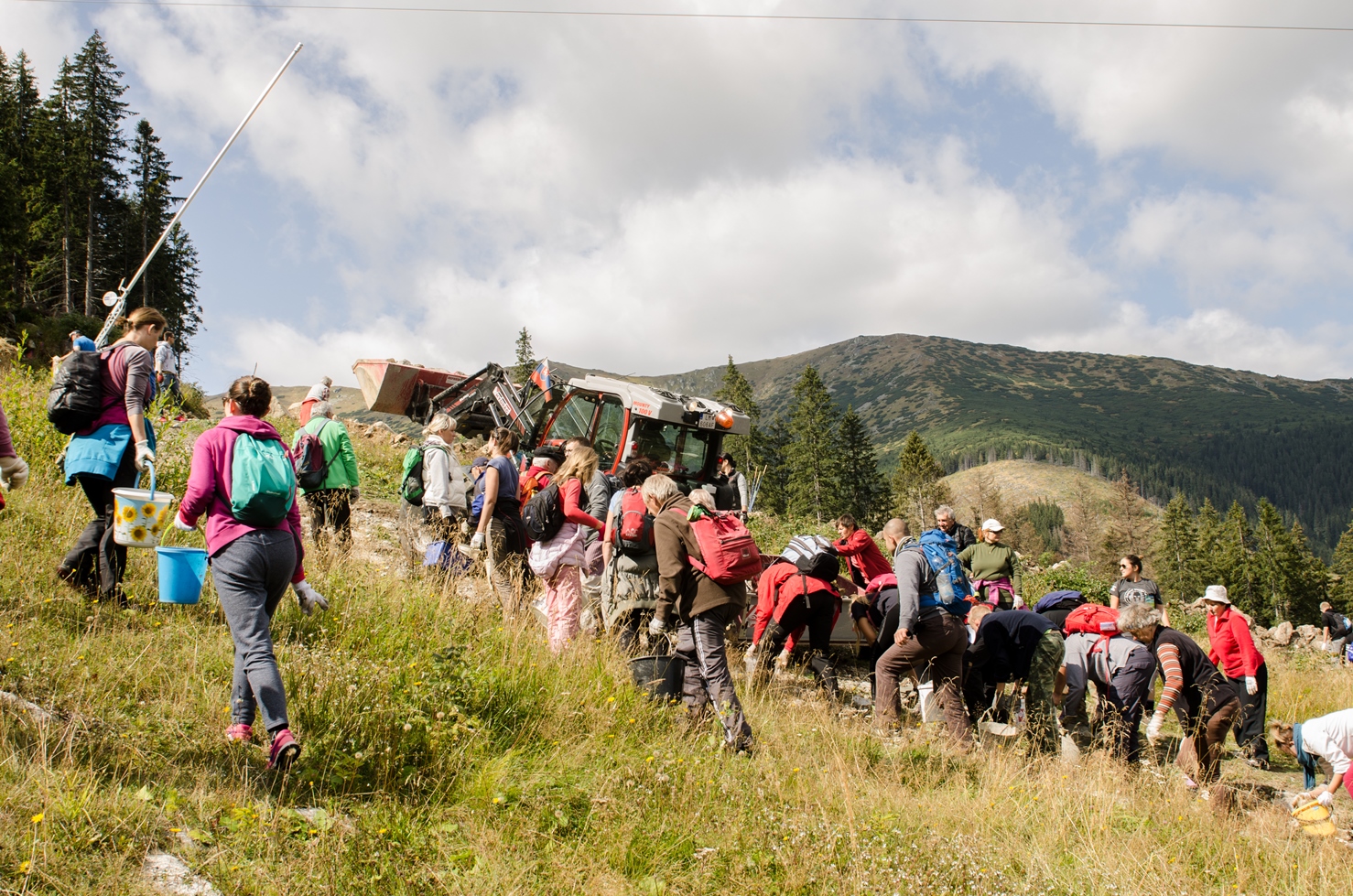 __________________________________________________________________________________
Tatry mountain resorts, a.s. (TMR) is the leader in tourism in Central and Eastern Europe; it owns and operates attractive mountain resorts, amusement parks, restaurant facilities, sports services, shops and hotels. In the Low Tatras TMR owns and operates the resort Jasná Nízke Tatry and hotels Wellness hotel Grand Jasná, Boutique Hotel Tri Studničky, Chalets Jasná De Luxe, Hotel Srdiečko, and Hotel Rotunda. TMR is also the owner of Aquapark Tatralandia, the largest Slovak aquapark with year-round operation, which besides water entertainment includes Tropical Paradise, a special tropical indoor hall with sea water, as well as Fun Park, and accommodation in bungalows and apartments of Holiday Village Tatralandia. In the High Tatras TMR owns and operates the resort Vysoké Tatry with mountain areas of Tatranská Lomnica, Starý Smokovec, and Štrbské Pleso, which TMR co-manages. In the High Tatras TMR also owns hotels Grandhotel Praha Tatranská Lomnica, Grandhotel Starý Smokovec, Hotel FIS Štrbské Pleso and Mountain hotel Hrebienok. TMR also owns a 9.5 % share in Melida, a.s., which leases and operates the resort Špindlerův Mlýn in the Czech Republic. TMR also leases and operates the ski resort Ještěd. In Poland TMR owns a 97% share in the mountain resort Szczyrkowski Ośrodek Narciarski S.A. (SON), a 75% share in a company that owns and operates Silesian Amusement Park (Śląskie Wesołe Miasteczko) and a 7.3% share in an amusement-educational project via the Polish company Korona Ziemi Sp. z.o.o. TMR also owns and leases hotels Slovakia, Kosodrevina, Liptov and Ski&Fun Záhradky a Bungalovy to third parties. By the end of 2017, more than EUR 300 mil. had been invested into development and modernisation of TMR's resorts. TMR shares are traded on three European stock exchanges – in Bratislava, Prague, and Warsaw.