LIPTOVSKÝ MIKULÁŠ (October 5, 2020) – Tatry mountain resorts, a.s. (TMR) released key season metrics for the 2020 summer in TMR resorts.
TMR released key season-to-date metrics for the summer season 2020 – for the period from May 1, 2020 till September 30, 2020 – compared to the prior year season-to-date period. The comparison includes mountain resorts – Jasná Nízke Tatry; Vysoké Tatry – Tatranská Lomnica, Starý Smokovec, and Štrbské Pleso; Austrian Mölltaler Gletscher and Ankogel, Polish Szczyrk Mountain Resort and Czech Ještěd; from leisure parks Aquapark Tatralandia and Legendia – Silesian Amusement Park in Poland; golf resorts – Golf & Ski Resort Ostravice and Golf Resort Kaskáda; and the hotels of TMR's portfolio in Slovakia. The evaluation does not include the Real Estate segment.
Highlights:
• The visit rate in Mountain Resorts fell year-over-year by -16.8%
• In Leisure Parks the number of visitors for the given period decreased year-over-year by -23.8%
• Hotels' occupancy in weighted average was down by -12.9 percentage points and average daily rate jumped up by +3.0%
• Total sales for the summer season were down by -15.7%
• Sales of cableway tickets for the given period dropped -16.7%
• Sales from Leisure Parks decreased year-over-year -34.9%
• Sales in the Golf segment improved year-over-year by +18.6%
• Sales from Dining fell -11.7% and sales from Sports Services & Stores fell -18.2%
• Hotels' sales decreased year-over-year by -5.3%
TMR's chairman of the Board of Directors, Igor Rattaj, commented on the season's interim results: "We managed to handle the summer in our resorts with all honor under the circumstances that arose in tourism as a result of the pandemic – in terms of preventive measures and results achieved. Honestly, we had expected it could have been much worse. We were pleased by the demand for Slovakia as a vacation destination. Although the number of visitors to our mountain resorts in the High Tatras, which generate the most revenues out of all our resorts in the summer season, turned out to be significantly lower, and therefore they were not nearly as full as was talked about everywhere, on the other hand, we were glad that thanks to the coronavirus people discovered Jasná in the summer, which attracted more visitors. At the moment, we are already focusing on the preparation for the winter. We are communicating with experts, setting manuals so that we can promptly react on the COVID situation development and prepare safe experiences in all our resorts for our guests."
The summer tourist season 2020 was greatly impacted by unstable weather that brought very few typical summer days, ideal for relaxation in aqua parks or mountain resorts. Also due to this fact clients were choosing to visit holiday resorts at the last minute, which had an impact on all the segments. Because of the always changing preventive measures against the spread of COVID-19, the MICE segment was completely missing in the summer season. Due to client uncertainty and the development of the coronavirus situation in traditional foreign holiday destinations, the majority of the population decided to go on holiday in domestic resorts, which was supported by challenges of national authorities in individual countries in which TMR operates. This was naturally reflected in the change of the composition of visitors in terms of nationalities, in which the dominance of domestic guests was strengthened.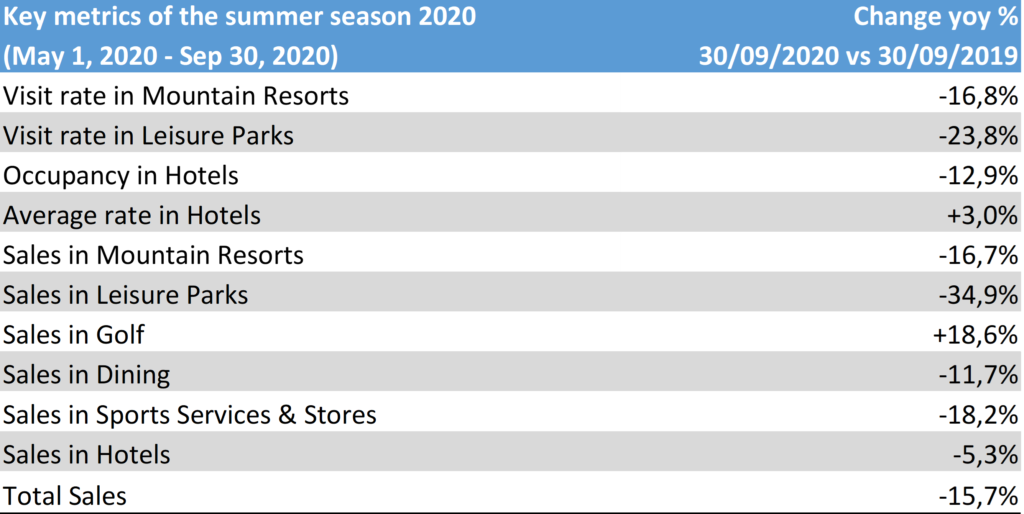 _______________________________
Tatry mountain resorts, a.s. (TMR) is the leader in tourism in Central and Eastern Europe; it owns or leases and operates attractive mountain resorts, amusement parks, golf resorts, restaurant facilities, sports services, stores and hotels. In the Low Tatras, Slovakia TMR owns and operates the resort Jasná Nízke Tatry and hotels Hotel Grand Jasná, Boutique Hotel Tri Studničky, Chalets Jasná De Luxe, Hotel Srdiečko, Hotel Pošta and Hotel Rotunda. TMR is also the owner of Aquapark Tatralandia, the largest Slovak water park with year-round operation, which besides water entertainment includes Tropical Paradise, a special tropical indoor hall with sea water, as well as Fun Park, and accommodation in bungalows and suites of Holiday Village Tatralandia. In Slovakia's High Tatras TMR owns and operates the resort Vysoké Tatry with mountain areas of Tatranská Lomnica, Starý Smokovec, and Štrbské Pleso. In the High Tatras TMR also owns hotels Grandhotel Praha Tatranská Lomnica, Grandhotel Starý Smokovec, Hotel FIS Štrbské Pleso and A night on Mt Lomnický štít. In Austria the Group owns and operates the alpine glacier resort, Mölltaler Gletscher, and its sister resort, Ankogel Mallnitz. In Czechia TMR also owns a minority share in Melida, a.s., which leases and operates the Špindlerův Mlýn resort. TMR also leases and operates the ski resort Ještěd, Golf & Ski Resort Ostravice and leases Kaskáda Golf Rezort Brno, where it runs a hotel, a restaurant and a conference centre. In Poland TMR owns and operates Szczyrk Mountain Resort and Legendia – Silesian Amusement Park (Śląskie Wesołe Miasteczko). Real estate projects are mostly focused on development, construction, and selling of apartments and non-residential premises and on hotel lease in the TMR resorts. By the end of 2019 around EUR 400 mil. had been invested into development and modernisation of TMR's resorts. TMR shares are traded on three European stock exchanges – in Bratislava, Prague, and Warsaw.