Sheep on ski pistes, attractive benefits for hotel guests, experiential gastronomy, varied programmes in water parks – the best known tourist centres in the Tatras and the region of Liptov attract clients to enjoy interesting new offers.
The biggest and best known ski resort in Slovakia – Jasná has prepared a lot of new things for the summer season. The biggest surprise will be waiting for tourists in the area of Priehyba. "After a long time of preparations together with our partners, we have created a project with the aim to restore the shepherding tradition and traditional mountain Wallalchian sheep in Jasná from  July. A flock of Wallachian sheep will be grazing on ski pistes, which will save us the grass cutting and ensure the best possible natural care for the sheep. What's more, our visitors will get the chance to taste original sheep products in the area of Priehyba," informed Jiří Trumpeš, the resort general manager. As for other new things, the resort entrance point on the northern side of Mt Chopok has been changed. "Visitors coming to Jasná for one day can board the chairlift in the area of Záhradky, travel to Priehyba and continue from there with the Funitel cable car to Mt Chopok. Záhradky will offer not only a complex tourist base with a client centre and gastronomy facilities but also attractions for children," added Jiří Trumpeš. 
Car parks will be available in the area of Záhradky or if these are occupied, the Lúčky car park and shuttle busses can be used to travel to Záhradky. The cable cars and chairlifts in Jasná are going to operate every day from 18th June. The Summer Opening with Kari Traa is planned for 2nd July, as far as other events are concerned, the "Behind seven mountains" festival for kids, the "Mt Chopok tastes good" and the brand new Experiential dinner in Kosodrevina are worth visiting. For more details, please see the website: jasna.sk.
Summer in the High Tatras – a summer full of unforgettable moments
Tatranská Lomnica, Štrbské Pleso and Starý Smokovec are three best known villages in the Tatras that offer complex facilities to all lovers of hiking and the alpine environment. To make hiking trips easier and more comfortable, tourists can use modern cableways to get from Štrbské Pleso below Mt Solisko, from Starý Smokovec to Hrebienok or from Tatranská Lomnica to Skalnaté Pleso. "This summer, the orange 6-seater chairlift will be used to travel from Tatranská Lomnica to Skalnaté Pleso instead of the 4-person cable car, which is undergoing complex maintenance. As the capacity is higher, transport to the Štart interchange station should be more comfortable and waiting times in the busiest periods should be minimised as a result," informed Dušan Slavkovský, the general manager of the Vysoké Tatry resort. Cable car trips to Mt Lomnický štít, the second highest peak of the Tatras, are another story. In addition to the highest located café, visitors who long for very special moments can spend a Night on Mt Lomnický štít in two suites there.
Unique gastronomy experiences are waiting in Skalnaté Pleso. "Delicious food will be served in the unique atmosphere of the mountains on top of the Encián Gallery outlook tower for the first time, literally within reach of the Tatra peaks. Besides the Lunch in the Clouds, romantic souls will love the Dinner under the Stars – an experiential evening that begins with a cable car trip to Skalnaté Pleso, continues with a tasty dinner in the modern Panorama restaurant and culminates with watching the stars on the night sky," said Lukáš Brodanský, the sales manager of the Vysoké Tatry resort about the experiential gastronomy below the peaks of the Tatras. The Humno Restaurant in Tatranská Lomnica is a traditional destination of culinary pleasure and a popular venue that offers endless night entertainment at weekends.
Popular attractions in the Tatras include boating on Štrbské pleso (tarn), which has a 150-year-long tradition. Tourists can use not only wooden boats but also a wedding boat or a glass-bottom boat at a new pier. Adrenalin fans will love the 3-kilometre-long mountain cart or scooter downhill from the Štart interchange station to Tatranská Lomnica. Great news for families with kids is that the popular Bear Days festival takes place in Hrebienok on 30th and 31st July. It will be full of interactive and educational programmes, a lot of fun and organised in a special more silent mode for the first time to fit in the mountain atmosphere of Hrebienok better. Hrebienok offers not only breathtaking views of Mt Lomnický štít but also a Zone of Pleasure with information about the fauna and flora of the Tatras, the interactive Quantarium gallery of light and a modern restaurant with a café.
Tatralandia
Tatralandia is a water amusement complex with an accommodation establishment and the only water park where one can try surfing on wild waves. One day is definitely not enough to enjoy Tatralandia to the fullest. That's why it is the ideal destination for all age groups to spend a longer holiday.
In the summer season, there are 14 sea, thermal and fresh water pools as well as 26 water slides, attractions, activities all day long and various summer events so that nobody gets bored there. In bad weather, the year-round Tropical Paradise hall with constant 30°C is at disposal. And thanks to the transparent roof, one can sunbath there all year round, in summer as well as in winter. The Holiday Village Tatralandia cottage resort in Tatralandia offers accommodation at the best prices and water park tickets included. "Tatralandia will guarantee a lot of unforgettable moments to all age groups in summer – new summer activities for kids and adults called Fairytale Summer in Tatralandia, performances of a magician, original oriental belly dancing with hookah waterpipes under the blue sky and the One Thousand and One Night programme. The varied music programme includes concerts of Polemic, Sima, EGO and others," said manager Marek Hollý about the summer programme in Tatralandia.
Bešeňová
The Bešeňová water park offers 4 outdoor geothermal water pools, 4 private pools for hotel guests, the Atrium relaxation zone with 3 stainless-steel indoor pools, a wave pool and a kid's pool, the Harmónia sauna world, a 30-metre-high water slide tower with 6 water slides of the total length of more than 1 km. 6 fresh water pools will be added in summer and scuba diving to a wrecked ship will be at disposal. One of the biggest sauna worlds in Slovakia – Harmónia Wellness & Spa offers saunas, water treatments and peels all year round. Accommodation is available inside the water park – at the holistic Galéria Thermal hotel, the Bešeňová Hotel and the modern Akvamarín Hotel, which was opened last year.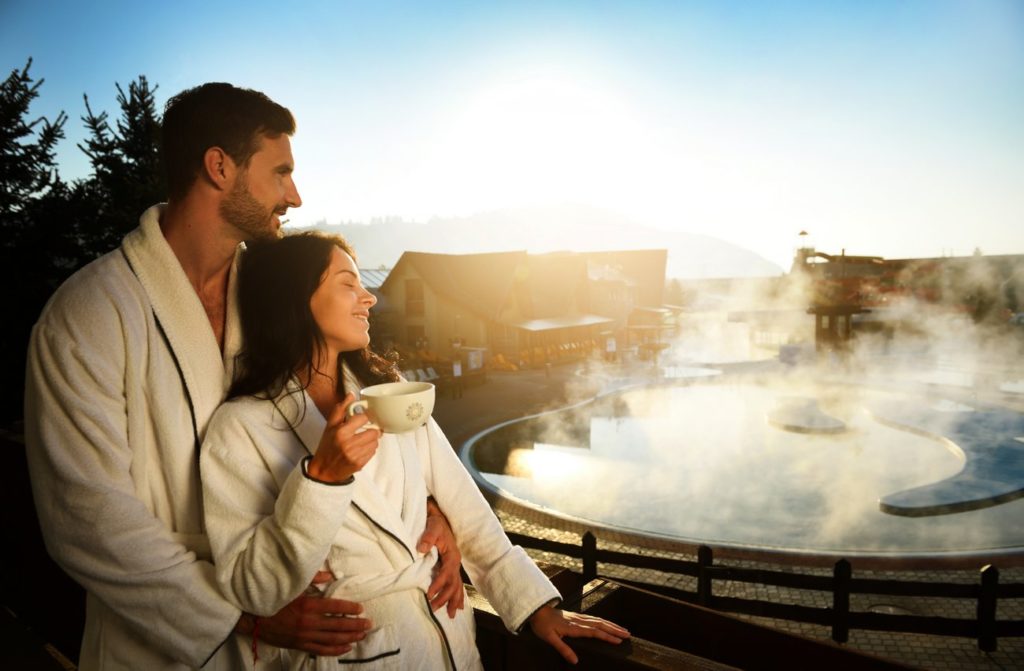 In addition to great relaxation at water, there are various support activities planned in the water park. Marián Čekovský and Ema Drobná will have concerts, the greatest musical hits will be sung by actors of the Nová scéna theatre as part of the Musical Summer in Bešeňová. Water park visitors can enjoy an ABBA show every Thursday, yoga and pilates every Wednesday and Friday. Popular Nights of sauna rituals will be available in special versions. "The summer tourist season in the TMR water parks is going to be opened symbolically at the Bešeňová Fashion Opening on 25th June 2022, with the participation of personalities of the cultural and social life from Slovakia, the Czech Republic and Poland. Several well-known faces are going to present models of Boris Hanečka and Lenka Sršňová on the catwalk, music performances will not be missing either, of course," revealed Igor Mráz, the general manager of TMR water parks.
Accommodation in the mountains and in water parks now with attractive benefits included
All guests staying at TMR hotels in Jasná, the High Tatras and the water parks of Bešeňová and Tatralandia can have cableways and water parks included. For clients who book via tmrhotels.com or gopass.travel, cableways and water parks are free of charge every day. And the best thing is that they can use this benefit in all resorts: Jasná, Vysoké Tatry, Bešeňová, Tatralandia.
Unforgettable moments with Gopass
A complex overview of available adventures and experiences in mountain resorts, water parks and hotels of the TMR hotels chain is at disposal online on gopass.travel and in the well-arranged Gopass app.