(Liptovský Mikuláš, 21st June 2022) The Grand Jasná hotel in the biggest ski resort in Slovakia witnessed 16 students of the cook-waiter branch of study to pass their final dual education exams.
7 cooks and 9 waiters, all of them from the Hotel Academy in Liptovský Mikuláš, presented their acquired skills to the examination board. Cooks excelled by preparing a menu, waiters did their best at a festive table setting before the eyes of their parents and friends. "At first, we set a festive table and had a skills test during which I flambéed pancakes. Then we served a gala lunch by using a special, complicated form of service. The main theme of our table setting was the National Flower Day, I chose exotic flowers as a subtheme. The weather has got warmer, the holiday time is coming so I wanted to relax a bit," summed up student Patrik Serek with a smile on his face.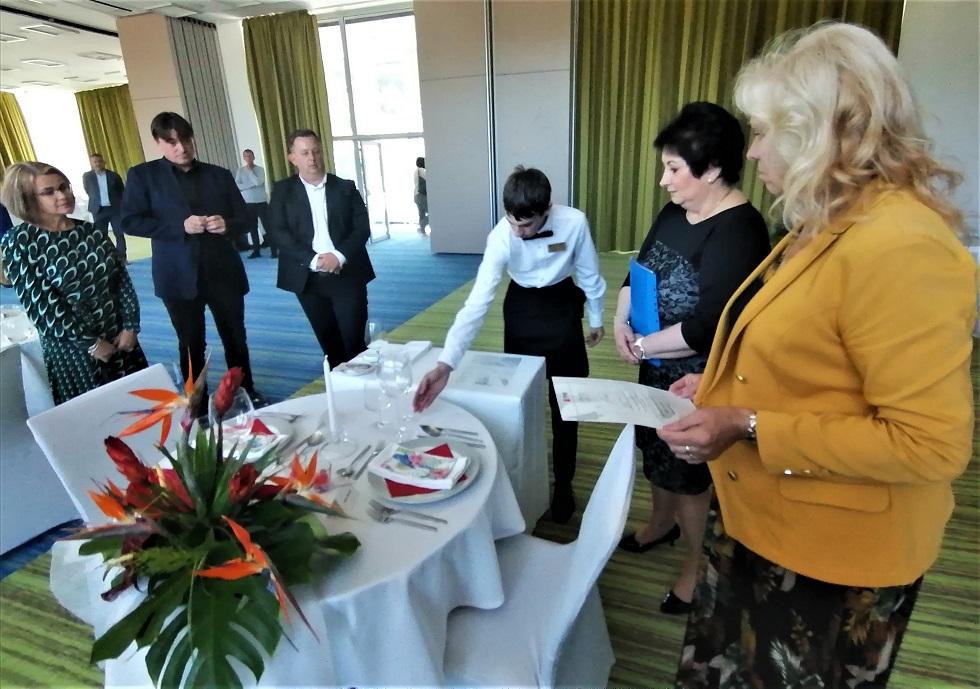 Katarína Uličná, the Hotel Academy headmistress was also watching carefully what the school students had learned. Among other things, she highlighted the benefits of dual education for tourism. "All skills according to the plan that are listed for our students in their educational programme have been mastered. They have shown that they had learned really everything from their employer. I think that there is a point in dual education mainly for big employers who can find future local employees, local students in this way. The employees should let parents and students know that it is targeted, has a perspective and is useful," said Katarína Uličná.

The Tatry mountains resorts, a.s. (TMR) company has cooperated with dual-system secondary schools for six years. "We have brunches of study focused on cooks and waiters with over 100 students in all classes. The number of students proves that the interest among students is high because we can offer them not only a job after they graduate if they want but also new prospects, new technologies, a chance to gain skills. In the field of tourism, we cooperate also with universities," explained Marek Schwarz, the HR department director at TMR.
Igor Rattaj, the chairman of the board of directors at TMR, was one of the exam assessors. "I am pleasantly surprised because they are really very well prepared. Most of them have served their apprenticeship at our hotels or restaurants and I think this is enormous and precious experience for them. Let's hope that many of them will also stay to work for us," said Igor Rattaj. "Today, I have seen how skilful they are and I cannot image how such a cook or a waiter can train their future job without dual education. I am fully for it and on behalf of TMR, I can say this is the thing we should engage in. This means to offer the form of dual education not only to future cooks and waiters but maybe also to cableway attendants and electricians or other fields that we use in our business," concluded the TMR chairman of the board of directors.